Scrappers roll 13-5 over Yankees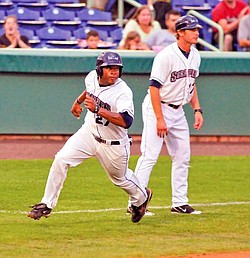 Photo
Scrappers baserunner Bryson Myles rounds third base to score as third base coach Dave Wallace watches at Eastwood Field.
By Jon Moffett
NILES
There were no gimmicks, no themes and no promotions Wednesday night. It was simply "bring your bat to the ballpark" night.
And it seemed like almost every member of the Mahoning Valley Scrappers had waited all season for the big night.
The home team pounded the Staten Island Yankees in a 13-5 drubbing at Eastwood Field on Wednesday night. It was the fifth time the Scrappers (27-19) scored 10 or more runs in a game this season.
The win keeps the Scrappers at the top of the Pinckney Division of the New York-Penn League with fewer than 20 games left in the short season.
Unlike several other outings this season, it was the Scrappers that fired the first shot.
Outfielder Bryson Myles turned a leadoff walk into the game's first run on a throwing error. The Yankees (33-12) turned a routine double-play ball into a miscue when shortstop Cito Culver's errant throw went wide of first baseman Raymond Nunez, allowing the speedy Myles to score from second.
The Scrappers added runs in each of the next four innings, building up an early 10-run lead that helped them ease off the throttle a bit. The Yankees' only run during that span came off a solo home run by Ben Gamel in the top of the third inning.
And the Scrappers did their best to make it competitive.
Scrappers starting pitcher Joseph Colon didn't have his best outing, but he was good enough. Colon (no decision) allowed the first three Yankees to earn free passes on back-to-back-to-back walks to start the game. A double play erased any potential threat. Scrappers arms allowed eight walks on the night and gave up three home runs — all solo shots.
Colon pitched just four innings, disqualifying him from his fifth win of the season. Instead, reliever Will Krasne picked up his second victory. Still, the pitching staff allowed nine hits. But the offense was more than ready to pick up any slack.
A chorus of cracks came off the Scrappers' bats to the tune of 13 hits. They scored a run in the first, second, sixth and eighth innings and erupted for four in the third and five in the fourth.
By then, the merciful thing to do was just hit the ball into play. But even then the outs weren't guaranteed.
The Yankees committed four errors — three of which directly led to Scrapper runs. Myles scored three times, twice on bad throws. His first run was set up by a Yankee error.
The Scrappers and Yankees will meet today for game three of the three-game series at 7:05 p.m.