---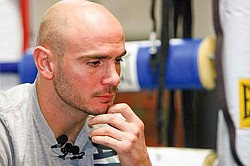 Photo
Kelly Pavlik has withdrawn from his scheduled fight vs. Darryl Cunningham on Saturday night at the Covelli Centre and told his promotional company, Top Rank, that he will not fight Lucian Bute in November.
By Joe Scalzo
YOUNGSTOWN
Kelly Pavlik's claim that Mikkel Kessler turned down $3 million to fight Lucian Bute is inaccurate, according to a source familiar with the negotiations.
The source said Kessler was guaranteed just $750,000, plus a fee from Showtime and 100 percent of the money from Danish television. The latter figure is unlikely to be substantial considering the fight would have aired around 4 a.m.
Pavlik was offered a $1.35 million guarantee to fight Bute in November. Showtime offered $2 million for the broadcast rights and the fight was expected to earn another $2 million in gate receipts plus some small ad revenue.
As the IBF super middleweight champ, Bute was set to get 60 percent of the $4 million, with Top Rank offering 82 percent of the remaining 40 percent to Pavlik.
Top Rank chairman Bob Arum, who confirmed the $750,000 figure, said there was a communication breakdown inside the Pavlik camp. Arum had negotiated the purse with Pavlik's co-manager, Cameron Dunkin.
"As long as he has a manager, we as promoters cannot ethically speak to him directly," said Arum, who said Pavlik has not returned his calls. "We assumed that everything we worked out with the manager, or that the manager accepted, was accepted by Kelly.
"All I know is this is totally and completely dysfunctional. What happened this time is ridiculous."
Boxing promoter Pat Nelson, who represents several fighters including Niles middleweight Billy Lyell, said Pavlik was offered fair money for the Bute fight.
"He was getting fair market value," Nelson said. "Anyone who is advising Pavlik otherwise knows very little about pro boxing."
Top Rank, represents more than three dozen fighters but only three others make at least $1 million a fight: Manny Pacquiao, Miguel Cotto and Antonio Margarito.
"If Pavlik doesn't want to fight again, his decision is understandable," Nelson said.
"But if he does want to fight and pursue a career in a new weight class, he made a huge mistake."