Shooting death of son mirrors that of his dad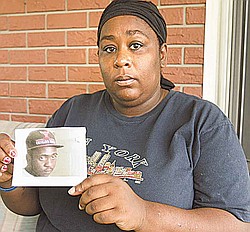 The Vindicator ( Youngstown)

Photo
Rhonda Woodall of Youngstown shows a picture of her son, Braylen Collins, 17, who was shot and killed on the city's South Side last week. Woodall also had to grieve over the loss of Collins' father, who was shot and killed a month before Braylen was born in 1994.
YOUNGSTOWN
The murder of a South Side teen last week wasn't the first time tragedy involving the death of a young father has struck the family.
Braylen Collins, 17, of West Glenaven Avenue, was killed July 29 in an exchange of gunfire in the area of West Evergreen Avenue and Summer Street. Police found Collins lying on the living room floor of a Summer Street home. He had been shot in the chest.
He was pronounced dead at St. Elizabeth Health Center.
Rhonda Woodall, Collins' mother, said her son's 1-year-old boy is now staying with her. The grieving mother said she wants to help the teen mother of her grandchild as much as possible because she knows all too well what the girl is experiencing.
Braylen's father, Jermaine Collins, was shot and killed 17 years ago, one month before Braylen was born. Woodall and Collins had been involved in a relationship, and she became pregnant with Braylen shortly before Jermaine Collins was killed.
Vindicator files show the elder Collins was found shot six times outside a home in the 500 block of Griffith Street on the city's North Side in May 1994. The 23-year-old had been shot twice in the chest, twice in the right shoulder and twice in the right hip.
Jermaine Collins, like his son 17 years later, was taken to St. Elizabeth, where he was pronounced dead.
Vindicator files show that Jermaine Collins also had been shot in the right thigh in 1990 and had been shot again in the groin in 1990, but he survived those shootings.
Woodall said she now wants to see to the care and well-being of her grandson. She maintains Braylen was a bystander caught in the crossfire between two feuding parties at the time of his death.
"I just wanted to say that my son was innocent," she said. "All my son was doing was walking to the store. My son did not have anything to do with the mess that was going on."
Woodall said Braylen was childhood friends with Delord Green, who was present at the time of the shooting and ultimately arrested for tampering with evidence and discharging a firearm within city limits. She said Braylen was walking to the store with Delord to buy cigars.
Woodall said Green had been involved in an ongoing feud with another man and had been in a fist fight with that man the day before the shooting. She said the man came seeking revenge and the gunbattle took place.
"He [Braylen] wasn't with them all the time," she said. "He was just going to the store to buy a blunt [a type of cigar]. The bullet wasn't meant for him; he was caught in the middle."
Woodall said her son was no angel — he did smoke marijuana, was charged with menacing, breaking and entering, and minor offenses such as running away and skipping school are on his record — but she said he was ready to graduate from the Mahoning County High School on Hudson Avenue and wanted a career where he could take care of his son.
Jennifer Whittemore, administrator at the Mahoning County High School where Braylen had been a student, said Braylen was focused on graduation and a benefit to the school. She said he participated in work-study programs.
"He was a very charismatic student. He was very active here and focused on accomplishing his goal of graduating," she said. "He definitely had a plan for himself and was focused on that."