Another side of The Houseband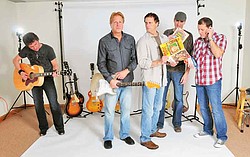 Photo
The Houseband is, from left, Mark DeVicchio, Michael Baranski, Kevin Mazy, Bill LaGuardia and Carmen Speziale. Not pictured are Wes O'Connor and Joe Johnson.
If you go
Who: The Houseband
When: 8 to 11 p.m. Sunday
Where: St. Patrick's parish festival, North Main Street, Hubbard
Also: 10:30 p.m. Aug. 19, Party on the Plaza, downtown Youngstown; and 6:30 p.m. Aug. 21, Up A Creek Tavern, Howland
By GUY D'ASTOLFO
Any discussion of Youngstown's most popular bands will have to center around The Houseband.
Which band brings out the most people? Which band starts the best party? Which has been doing it the longest?
The answer you likely will hear more than any other is The Houseband.
It has been one of the area's top cover bands for 20 years, playing gigs every weekend. But The Houseband also expresses itself through its own music.
It recently released "Lucky One," its third album of original tunes (available on iTunes and CDbaby).
True to form, the album has a few party anthems. But the majority of its songs defy the perceptions that some fans may have.
The introspective album looks back on life ("Best Time I Ever Had") and dispenses relationship wisdom ("Beginning of the End"). It revels in contented domesticity ("Lucky One" and "Father to Son"), and even includes a grand classic-rock-style suite ("You and Me").
In short, it reflects the lives of the band members, two decades down the road.
Mark DeVicchio, frontman and a key songwriter for The Houseband, is especially proud of the new album. The Vindicator talked to DeVicchio — who is also a lawyer with offices in Canfield — about the band and the music.
Q. Many of the songs on the new album are heartfelt and explore personal relationships. It differs from the party music that The HouseBand is known for. Is this a new direction that the band might take? And which of the songs on the new CD are you playing at shows?
A. The Houseband will always be a "party band," but the trick is to subtly evolve to keep things interesting. Our original songs mostly explore personal relationships because that's what is most familiar and important at this time. I would not say the band is moving in a direction exclusively toward original music. We've played original songs since 1998. We recorded the "Yeah Right" CD in 1998, the "Huge" CD in 2002, and "Lucky One" this past year. Right now, we are playing some gigs where we are showcasing our original music, like recently at the Morley Pavilion in Mill Creek Park. The goal is to be able to incorporate some original material into our sets. We hope that some of the songs strike a chord with someone, whether it's through the lyrics or the music, and becomes catchy or familiar. I think a song like "Let's Get it Started," "Best Time I Ever Had, or "Join A Band" have party potential.
Q. Some of the lyrics are coming from a place of domestic bliss or contentedness. Have you reached a point when it's time to take stock and not take things for granted?
A. That's a heavy question! I don't think I've "reached a point" at all. It's always a goal to not take things for granted whether that be professionally, family or socially. I like where I am, and it's important to be grateful and appreciative. I think the lyrics of the songs reflect that (especially a song like "I'm Not Lookin' Forward to Thinkin' Back"). I write most of the lyrics; however, Michael Baranski was the principal lyricist on "Let's Get it Started" and "When I Come Around."
Q. How does the new album compare to previous efforts?
A. This CD is different from the first two because your place in life changes. In 1998, I was single and it was my first try at songwriting. I think the songs reflect that (like "I Met a Girl"). In 2002, when we recorded "Huge," the band was in transition because our membership changed and I was newly married and adjusting to it (see the song "Vent"). And now it's nine years later and here we are, still doing our thing, but coming from a place of domestic contentedness. The funny thing is, all those songs are about the same girl!
Q. Give us a brief history of The Houseband.
A. The band formed in the early '90s at a bar on South Avenue called Jim Dandy's. My uncle owned the bar, and we would have jam sessions. We started out as a four-piece band and would play these crazy "beach parties" in the middle of January. We really started to develop relationships with people who always had fun when we played. They started calling us the house band. Then other bars asked us to play for them and be their house band. It stuck, and now we're Youngstown's Houseband, and believe me, it has been a wonderful, fantastic journey. We've had at least 14 or 15 different people in the band at one time or another. We've recorded three all-original CDs. We've shared the stage with Donnie Iris, Eddie Money, Michael Stanley, Kool and the Gang, Blue Oyster Cult, David Lee Roth, Kansas, 10,000 Maniacs, Grand Funk, Sponge and .38 Special, to name a few. To perform, we've traveled as far west as Toledo, through Akron and Cleveland, to Pittsburgh, Sharon and Cranberry, Pa. We've even played at the Rock and Roll Hall of Fame. So it's been a fantastic journey for a "party band" from Youngstown that plays mostly on weekends.
Q. The Houseband has long been one of the area's top-drawing bands. What's behind its popularity and longevity?
A. The band has had so many different members make up it's ranks over 20 years. Each time the individuals in the band change, the personality of the band has changed. In 1991, we were four guys playing '60s tunes and blues on South Avenue. In 1998, it was a five-piece band trying to incorporate some original music, playing top 40, and specializing in the "new" alternative music. In 2002, we began playing more classic rock and incorporating rock 'n' roll anthems. In 2011, we are incorporating more dance, soul, rhythm and blues and country. We take those elements and try not to lose anything from the past. So you end up having a band with a significant repertoire that incorporates all musical genres. Maybe the trick is being able to appeal to as many people as possible, knowing that you can't please everybody — but always play with passion and look like you're having fun.
Q. As a lawyer, how do you find the time to devote to writing, recording and performing music?
A. The secret is establishing your priorities. My first priority is my family, second is my law practice, and third is my music. I really don't do anything else! I haven't swung a golf club in three years and I haven't been involved in any kind of organized activity in years. I am lucky enough that my family recognizes that my law practice and the band significantly occupy my time, and they support and encourage me.