Proposed bridge will connect museum's two buildings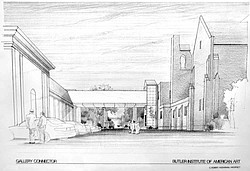 Photo
The architect's rendering shows a proposed bridge that will connect the Butler museum to the Butler North building.
The Butler Institute of American Art has been trying to connect with an adjacent building it owns to bring it more closely into the museum family.
The solution could be a bridge between the museum and the former church, which is known as the Butler North building.
The Butler acquired the beautiful stone edifice a few years ago and has been using it for classroom space, with the former sanctuary available for rentals as a performance space.
But the building largely has been underutilized.
A bridge should change that. Architectural plans already have been drawn up, and fundraising is under way. Lou Zona, director of the Butler, said — optimistically — construction should begin in 2012.
The bridge would connect the top floor of the Butler with the top floor of the Butler North. The second floor of the Butler North then would become the new permanent home of the museum's Americana collection, an interesting assortment of folk art, including duck decoys, ship models and weathervanes.
The bridge itself also would be a gallery. Plans call for a wide walkway with large artworks mounted on one side, and a glass wall on the other, so passersby can see the art.
More definite than the bridge project is a plan to install an elevator in the Butler North building — which has never had one. Funding is already in place for that project, and construction should begin soon. The elevator will be built outside the south wall of the building, near the bridge (see the architect's rendering on this page).
Visitors to the American art museum will notice yet another change soon. The museum's cafe will reopen later this month under new management. It will be known as Colllections.
Formerly known as Winslow's, the cafe — which had been operated by the Antone's restaurant group — closed last week.
The new management group will be AVI of Warren, which operates similar cafes in hospitals and schools, and also provides food for vending machines.
The menu will include a variety of soups, salads and sandwiches. Collections will be open Monday through Saturday —and possibly Sunday — from 7:30 a.m. until about 3 p.m.
Movie genres battle for box-office supremacy
Last weekend's box-office report showed a virtual tie between "Cowboys & Aliens" and "The Smurfs," which both opened Friday. Each film raked in about $36 million, although "Cowboys & Aliens" had a slight edge. No doubt, Hollywood has noticed. Can "Smurfs vs. Aliens" be next?