Falcon Pride program gives students educational opportunities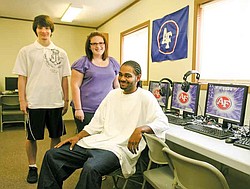 Photo
Jason Kessler, left, Tracie Finnie and Jevon Fitzgerald share their experiences as students of Falcon Pride Online. Kessler and Fitzgerald are two students of 11 that graduated from the internet school and received diplomas from Austintown Fitch High School. Finnie will return to the school this year as a junior.
Falcon Pride program gives students educational opportunities
austintown
Falcon Pride Online will open its doors for a second school year and offers kindergarten through 12th-grade students an individualized opportunity at education.
Jevon Fitzgerald enrolled at Falcon Pride after he attended another online school and Choffin Career and Technical Center. He is one of 11 students that received an Austintown Fitch High School diploma this year after completing high school coursework online.
"Jevon was a class clown in school. He needed one-on-one education." said Tracy Fitzgerald, his mother.
"This gave me an opportunity to graduate because I was behind," said Jevon Fitzgerald, who is enrolled in the FirstEnergy program at Youngstown State University. "I would have had to do another year."
He said he liked how quiet the lab was, located next to the district's high school, and how the teachers who do the online classes come in after their traditional classes to help.
The school's lab features 48 computer stations and has two tutors on staff. It is open 7:30 a.m. to 6 p.m. Monday through Thursday and 7:30 a.m. to 3 p.m. Friday. Last year, 25 teachers participated in the program.
"We don't want to take the place of a teacher," said Janet Polish, director of 21st Century Education. "We want to offer a different way to deliver curriculum."
For Jevon's mother, it was the accountability the school offered that she liked.
She said when her son didn't complete an assignment, she received a "one-call."
"All the phones, the cell and the house, would ring at the same time," said Tracy Fitzgerald. "I would say, 'You didn't do your homework; she called me.'"
Polish said calls aren't the only way parents can monitor a child's progress. Students' grades are kept up-to-date and their Internet activity is logged. Parents can see how long their child spent doing homework, as well as what homework was completed.
The school's standard-based curriculum includes core subjects such as English, math and science, along with elective classes such as French and Spanish. Students can complete their work in the lab, or the school has computers for loan, and will reimburse a student for Internet access, if they choose to work at home. Weekly assignments are due at 3 p.m. Friday. Exams must be taken in person. Students are also required to take the Ohio Achievement Assessment and Ohio Graduation Test.
"Even if a student came into the lab, but didn't complete the work, [he or she] would be considered truant," said Polish.
Truancy issues at Austintown Fitch High School is one of the reasons Jason Kessler decided to attend the nontraditional school.
"I had an illness that didn't fit into the school schedule," said Kessler, a 2011 Fitch graduate. "I was behind in credits."
He said he attended two other online schools before completing his education at Falcon Pride and plans to go to college to become a prosthetic designer.
Polish said the school was best suited for students who have motivation and want to do well, and could be an alternative for parents who home-school.
Students who attend can participate in Austintown Local Schools' extracurricular activities, such as athletics, clubs, band and choir. They also have access to the health clinic and can buy lunch in Fitch's cafeteria. Transportation can be provided for Austintown residents.
"They are a Fitch kid, just getting curriculum a different way," said Polish.
She said this year, approximately 50 students have expressed an interest in enrolling.
Tracie Finnie is one.
The junior will attend the school for a second year.
"I concentrate better online than in a classroom with students," said Finnie.
She said she was a student at another online school for her freshman year, but found it hard to keep on track without supervision.
Finnie said she used the computer lab two or three times a week and stayed all day.
"The teachers" at Falcon Pride "are not like others," said Finnie. "They don't let you slack off."
Polish said she is willing to work with a student and parents to create an educational environment in which the student will succeed.
"We will help you here," said Polish. "This is school; it's an education, it's their future."
She warned, though, that it's not an easy way out.