Katie Griswold leads Butler soccer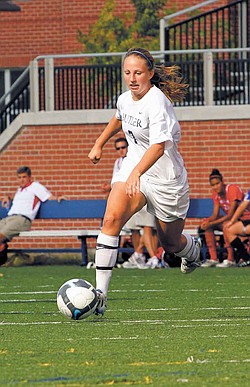 Photo
Cardinal Mooney graduate Katie Griswold is a forward on the Butler University women's soccer. A preseason poll has her ranked as the third best player in the Horizon League.
By Tom Williams
Cardinal Mooney High graduate Katie Griswold has found some pretty cool perks in Indianapolis.
As the Butler University junior prepares for the women's soccer season, Griswold has found Indiana's capital to be a great place for sports lovers.
Thanks to the rise of Butler's basketball program, she's attended the past two NCAA men's basketball championship games (one in Indy's Lucas Oil Stadium, the other in Houston's Reliant Stadium).
She ran into Colts quarterback Peyton Manning while he was quietly working out in the Butler weight room.
And now that the NFL lockout is over, she wouldn't mind returning to Lucas Oil Stadium on Feb. 5 for Super Bowl XLVI.
First, there's soccer season where big things are expected of Griswold. TopDrawerSoccer.com's preseason poll picked her third in a list of top players for the Horizon League. Wisconsin-Milwaukee's Sarah Hagen is first and Wright State's Brittany Persaud is second. Youngstown State University's Allison Ludwig is 20th.
Griswold said speed is the biggest difference from when she played for Mooney.
"The game is a lot faster, so that makes a huge difference," Griswold said of college soccer. "With the quicker play, you can't have as many touches.
"And in high school, most teams had a couple of good players on each team. In college, everyone is a standout."
Last season, Griswold was one of two forwards used at the top. She expects Coach Tari St. John to play her there again after she was named first team All-Horizon for regular-season play and to the Horizon League all-tournament team.
Mooney's career leading scorer with 106 goals, Griswold led the Bulldogs in scoring with 20 points (fourth in the Horizon) last year. Her nine goals tied her for second in the league.
Training camp began Tuesday. Griswold said practices "are mostly with the ball, but there's some conditioning in there. The freshmen are coming here, so the main focus is getting comfortable with them.
"I think we will have a really good team," Griswold said. "We lost three seniors who started but we have eight incoming freshmen."
Griswold is majoring in mechanical engineering and chemistry.
"I want to work in a hospital," she said, hopefully working with doctors to help develop and improve medical instruments.
Her toughest class was Biomeasurements which required a 35-page lab report after a few sessions.
Her favorite class?"
"Any of the calculus classes," Griswold said.
Her encounter with Manning was a fluke, she admits. The weight room was locked, but she found someone to let her in so she could retrieve something from her locker.
"I really wasn't suppose to be down there but I had to go through the weight room to get what I needed," Griswold said.
When she saw Butler's special guest, the mystery of the locked weight room was revealed.
A Browns fan, Griswold says she's noticed the passion Indianapolis fans display, from backing the Colts to supporting the Butler men's basketball team.
"These people are crazy about the Colts," Griswold said. "They're nuts, especially about Peyton Manning."