Scout leads effort in creating Environmental Learning Center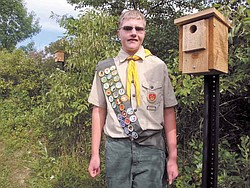 Photo
Boy Scout Troop No. 115 member Zane Welch stands next to a blue bird box he built as part of his Eagle Scout project. Welch created the Environmental Learning Center, which includes a mulch trail and several nesting boxes for owls, birds and bats in the Austintown Local School Wetlands next to the district's middle school.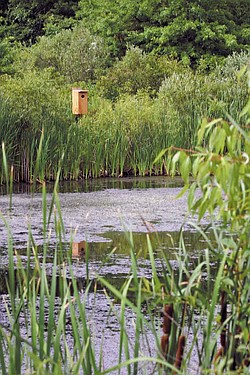 Photo
Nesting boxes for birds, bats and owls surround a pond in the Austintown Local Schools Wetlands. The boxes are part of the Environmental Learning Center created by Zane Welch, as part of his Eagle Scout project.
AUSTINTOWN
Austintown teachers and their students can get closer to nature this school year.
Zane Welch, of Austintown, designed, developed and led the way for the creation of the Environmental Learning Center located in the Austintown Local School Wetlands. The three-year effort was to help the Troop 115 member earn an Eagle Scout rank.
The learning center, next to the district's middle school, features a mulch walking trail that leads to an open "classroom" area overlooking the wetlands. Nesting boxes for bats, blue birds, wood ducks and owls also were added. They surround a pond and are filled with wood chips to attract wildlife.
"The hardest part was raising money," said Welch.
In the original plan, Welch wanted to create a boardwalk that led to a wooden observation deck.
"He had very, very big ideas" when he approached the school board, said Barb Kliner, grant coordinator for the Austintown school district. She said the school board passed a resolution in July 2008, which allowed the project to move forward. Kliner worked closely with Welch throughout the project to make sure the wetlands were protected.
In August 2009, Welch hosted a Wildfest fundraiser at the middle school and raised more than $900. He was able to secure some private donations, but attempts to obtain grants failed.
"The first plan was really expensive," said Andy Welch, Zane's father and scoutmaster. He said the service- project book deliberately asks a Scout to make a plan first, then document changes to the plan and the reasons why.
"They might start out with a $90,000 deck and end up with a $1,200 project," said Andy Welch. "But they still end up with a completed project."
Another hurdle Welch had to overcome was time.
To achieve Eagle ranking, a Scout must meet many requirements, one of which states that the Eagle project must be completed before a Scout turns 18 years old.
"I thought I wasn't going to get it done before my birthday," said Welch.
He spent seven hours a day over the July 4 weekend with 15 other scouts and parents pushing to get the learning center completed. One day was spent clearing a path with a tractor and getting mulch. Spreading mulch and anchoring the nesting boxes took up the second day. In total, the service project took 1,200 hours.
Welch was given a plaque by the Austintown School Board July 18, just one day before his birthday. He will now go before the Eagle Scout Board of Review to finalize the process.
"Do not wait until the last minute," Welch warned other potential Eagle Scouts.
Kliner said she was proud of Welch for sticking to the project and completing it.
"I am looking forward to students being able to use the area for a long time," she said.
Jim Kerr, founder of the Beaver Creek Wildlife Education Center, said the upgrades to the wetlands were also good for the community.
"The negative effect of a wetland is insects like mosquitoes," said Kerr.
He said Welch asked him for information on which boxes would attract which types of birds.
"Tree swallows and bats are very, very effective insect eaters," said Kerr. "Owls eat rodents."
He said tree swallows and blue birds will use the same box at different times.
Welch said he is considering placing a wireless camera in one of the boxes, and streaming video on the school's web site so people can see eggs hatch. He said he's also looking into adding benches to the area.
He wants people who visit the learning center to "just relax and enjoy it."
Welch said the project, along with participating in the Boy Scouts National Youth Leadership Training, helped him learn leadership skills and he plans to put them to use in the future. He will stay involved in his troop, which meets at St. Michael Church in Canfield every Tuesday from 7 to 8:30 p.m., as an assistant leader and be an Venture Scout until he turns 21. Afterward, Welch wants to join the ranks of other famous and successful businessmen who are Eagle Scouts, like Wal-mart founder Sam Walton, and own a hotel.