Group aims to boost Youngstown-Warren airport service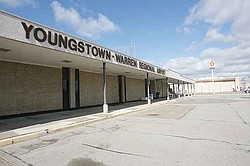 Photo
A resolution passed by Youngstown City Council in 1992 said the facility in Vienna would "forever be named Youngstown-Warren Regional Airport."
Staff report
VIENNA
A new nonprofit is looking to bolster Youngstown-Warren Regional Airport's flight destinations.
YNGAir will begin securing funds at a May 11 meeting at the airport to attract new flights to big-city destinations such as Detroit, New York and Las Vegas.
Doug Kibby, a YNGAir founder, said its main goal is to show community and business support for the airport's efforts to secure daily airline service.
Through fundraising, the group will try to build a reserve account — about $1 million — to cover what's called a minimum-revenue guarantee, a rainy-day fund smaller airports use as collateral to draw major airlines.
The airline itself cannot lobby for community money due to grant restrictions, said Dan Dickten, director of aviation. Instead, the airport and YNGAir will work with Western Reserve Port Authority, and Youngstown/Warren Regional Chamber will aid in driving community support.
Delta Airlines has asked the airport to submit a proposal for two daily flights from the airport to Detroit where local flyers can connect to more than 120 domestic and about 20 international destinations, Kibby said.
If a flight doesn't generate the 3 percent revenue required by Delta — because of poor flight attendance — the funds generated by YNGAir would cover the guarantee.
At this point, all flights out of Youngstown are nearly packed, Dickten said, averaging 97-percent capacity. The airport services slightly less than 3,000 per month.
Flights go to Myrtle Beach, S.C., Orlando-Sanford, Fla. and St. Petersburg-Clearwater, Fla.
The nonprofit organization's first meeting is scheduled to coincide with an Allegiant Air flight set to depart the airport at 6:55 p.m. The public is invited to attend and to show the region and the airline industry that customers want to fly into and out of the airport.
"This is an exciting time to be in the Youngstown-Warren region," Kibby said. "With the natural-gas industry interested in this area, the boom and expansion of regional business, and the need for air travel to support those efforts, our organization is ready to take off and support the airport."
Dickten and Thomas Reich, a consultant and president of Air Service Partners, will present updates to the public on recent negotiations.YNGAir will begin assembling its nine-member board at 7 p.m. May 11.
For more information, visit its web site at yngairpartners.org.