Canfield marks 30 years as Tree City USA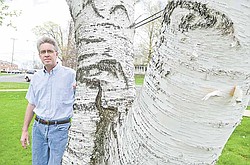 Photo
Mark Eddy, chairman of the Parks, Recreation and Cemetery Board for the city of Canfield, stands next to a birch tree on the city's green. Canfield has been a certified Tree City USA for the past 30 years.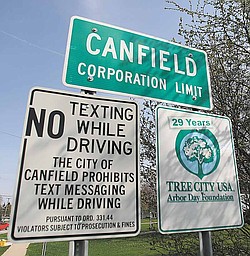 Photo
The leaves of neighboring trees cast their shadows on this recently outdated sign boasting of Canfield's status as a Tree City USA.
CANFIELD
Canfield city is celebrating its 30th year of distinction as a Tree City USA. But 2011 also marks a milestone for Ohio, which has led the nation with the most tree cities for the same amount of time.
"We're pretty proud of being a tree city for 30 years," said Mark Eddy, chairman of Canfield's Parks, Recreation and Cemetery Board and volunteer certified arborist.
Canfield is among 244 cities in the state with the distinction including Youngstown, Lisbon, Leetonia and Salem.
Canfield earned a growth award for planting 32 trees last year and establishing an emergency-management plan for trees damaged by storms or pests such as the emerald ash borer.
"That's kind of a feather in our cap. We've never had that before," Eddy said.
Board members Nancy Brundage and Diane Degnan attended a regional ceremony in St. Clairsville Tuesday to receive those awards for Canfield.
Having Tree City USA status doesn't mean you'll see more trees in those places than you would others, just a tree population that is better cared for and a city that has made official its dedication to trees.
"We take trees for granted, but they're really the anchor of the entire landscape," Eddy said. "Without trees, the landscape isn't full. It just doesn't look right."
To qualify, cities must meet four criteria:
The city must have a board or city forester in charge of the program.
There must be an ordinance describing the program.
There must be a financial commitment of $2 per capita in the community.
The city must celebrate Arbor Day.
Drew Todd, state urban forestry coordinator with the Ohio Department of Natural Resources, said Ohio's distinction is one to be proud of because the state doesn't actively recruit cities to the program.
"It speaks of the commitment that Ohio communities have made and as well as an understanding that trees will enhance the quality of life for residents," Todd said.
David Sturtz, certified arborist and city forester for Youngstown, said having trees in an urban environment is important.
"It adds to the overall quality of life," Sturtz said.
"Streets with nice trees properly maintained with the right tree in the right place will add to the property value. If you go out somewhere on a hot sunny day down a street with no trees, and then go down a street with lots of trees that's shaded, where are you going to hang out?"
Sturtz said much of what city crews focus on in maintaining the tree population deals with cleanup or removal.
"We have a lot of dead trees in the city or hazardous trees that may be alive but are a nuisance because they cover sidewalks. Those are pruned to maintain sight distance at intersections.''
On April 16, the Boulevard Park Block Watch planted trees on the city's South Side near the corner of Rush and Midlothian boulevards as part of an ongoing city beautification project. Youngstown has been a tree city for four years.
Lola Lewis, an urban forester and regional coordinator with ODNR, said many cities likely already qualify for Tree City USA status and can apply to make it official at the Division of Forestry's web site at www.ohiodnr.com/forestry.
"A lot of communities around this area have been meeting the requirements for years. Any money that goes toward leaf pickup, storm damage cleanup and maintaining city parks, all those workers they have working to help keep the community beautiful, and any caring or maintenance of trees can be part of a city's per capita requirement."
Salem has been a tree city for 28 years, and Dave Navoyosky has served on the Shade Tree Commission since 1990. He said the commission used to plant $20,000 worth of trees each year with funds from the Salem Community Foundation. Now the group receives about $10,000 a year.
"I don't know if we could plant $20,000 worth of trees now because we've been so aggressive over the years," Navoyosky said. "There's not many planting sites available."
Still the group plants trees at city parks, and on city property when a homeowner requests them along a sidewalk or other location.
"It's for the aesthetic reason. That's the biggest one," Navoyosky said. "The other is simply producing oxygen. People don't realize how much oxygen is produced but that makes the air cleaner and makes you feel better. Also for shade. If your house is shaded by trees you don't have to have your air conditioner on as much because you're saving energy. Privacy is another one."
Youngstown State University earned Tree Campus USA status in July 2010. While not included in the Tree Cities numbers, it is one of only four universities in the state with such designation.
There are 1,900 trees on the 145-acre campus, according to the university.