Brown favors pedals over pumps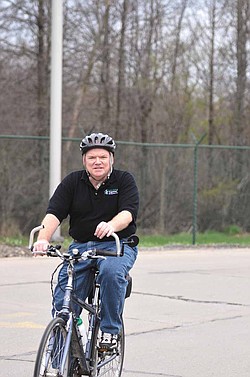 Photo
John Brown, a Warren resident and city councilman, is one person who's opted to bike to work instead of driving. He's pedaled his bike to his job at Thomas Steel Strip Corp., a 5-mile ride, for much of the past five years.
By Karl Henkel
khenkel@vindy.com
WARREN
While most cringe at the sight of gas prices, John Brown portrays a different expression when he passes fuel pumps on his early morning ride to work.
"It puts a smile on my face," he said. "I get a little smile when I go by and see $3.89 a gallon."
Brown is able to smile because each time he passes a gas station, he isn't driving — he's riding his bike.
The 53-year-old Warren resident and city councilman begins each morning by pedaling five miles to Thomas Steel Strip Corp., a path he's pedaled for much of the past five years, weather permitting.
So far he's totaled more than 4,700 miles on his Trek 7300, equipped with a rack and quick-release bag, so he can transport all of his essentials to work.
Brown, who estimated he's spent $500 on the bike, accessories and a couple of small repairs, said he originally didn't look at the throwback form of transportation as a way to save significant money.
But with gas prices nearing record highs for the second time in four years, especially considering his everyday vehicle — a Chevy Venture — gets only about 20 miles per gallon, it's been an added bonus for Brown.
The gas savings from riding instead of driving? At a $3.90-a-gallon rate (for regular unleaded), Ohio's average as of Tuesday, it's more than $900.
Add that to a recent Associated Press story, which found the average American spends more than $8,500 a year on his or her vehicle, based on driving 15,000 miles annually.
As for one perceived downside — that it takes too much time to get from point A to point B — Brown says that's not the case: It takes him about the same amount of time, give or take a few minutes.
Time, though, is not something Greg Hynes is worried about.
A lifelong biker, he is considering biking from his home in Coitsville Township to his job as a civil engineer at Michael Baker Jr. Corp. in Brighton Township, Pa. — a whopping 34-mile, one-way commute.
Hynes, who went on a 12-day, 700-mile bike ride with friends through North Carolina and Virginia last summer, said he spends about $40 a week on gas for work purposes.
He said he doesn't plan on making the two-hour, 45-minute ride every day but hopes to do it three days a week to save on gas money.
"It's not really all about the money," he said. "But if it's gonna cost me $40 a week, maybe if I bike a couple of days, I can cut that in half."
Biking can save money for riders and, in turn, provide big paydays for local bike-shop owners such as Paul Frankford of Frankford Bicycle, 964 N. State St. in Girard, and Augie Thumm of Thumm's Bike and Clock Shop, 330 West Market St. in Warren.
Thumm said his sales are up nearly 30 percent this year, thanks in part to customers' frustrations with gas prices, something he correctly anticipated when he bought his most recent fleet of bikes.
He took on about 700 new ones this season, but all in 2010 models. For essentially the same product, Thumm has been able to offer a $400 bike for as little as $250.
Thumm's savings are passed on to customers through lower percentage markups, and he said his prices are now more in line with chain stores such as Walmart and Kmart.
Add lower prices to a usually busy time of year based on warm weather, Frankford said, and business is booming.
"There's definitely a noticeable difference," he said.
The bikes are flying off the shelves; Thumm recently sold 26 in one day and said he expects the shop, in business for 101 years, to have one of its best seasons ever.
"I think I've placed us in a position to have the best year we've ever had."