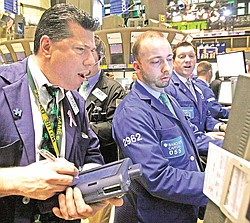 ASSOCIATED PRESS

Photo
In this file photo taken March 17, 2011, traders gather at a post on the floor of the New York Stock Exchange. European stocks rose moderately Tuesday, April 26, 2011, as traders returned from the Easter holiday to face a big week of economic data and shrugged at the latest bad budget news from crisis-stricken Greece.
Associated Press
NEW YORK
Stocks jumped to their highest levels in nearly three years Tuesday, thanks to signs that earnings are rising for U.S. companies and consumers are feeling more confident about the economy. The Russell 2000, the benchmark index of small companies, neared a record high.
The new highs continue a historic recovery in the stock market. Stock indexes have more than doubled since hitting a 12-year low in March 2009. The fastest bull market since the 1950s has erased most of the losses stemming from the financial crisis.
Investors who bought at the top of the market in 2007 have lost 4.2 percent, including reinvested dividends. Analysts predict stocks will continue to rise if unemployment keeps falling and global demand leads to more profit growth.
The Standard and Poor's 500 index —the benchmark for most mutual funds —reached its highest level since June 2008. It gained 11.99 points, or 0.9 percent, to 1,347.24. It's still 16 percent below the record high of 1,565 it reached in October 2007.
The Dow Jones industrial average also marked a new high for the year, rising 115.49 points, or 0.9 percent, to 12,595.37. The Nasdaq composite rose 21.66 points, or 0.8 percent, to 2,847.54.
Better-than-expected earnings reports from companies ranging from airlines to office products manufacturers helped drive a broad rally that included all 10 company groups that make up the S&P index. Industrial companies gained nearly 2 percent, the most of any group.
More like this from vindy.com