Morrone anxious for WATTS next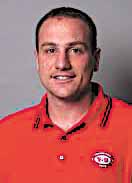 Photo
By Jon Moffett
YOUNGSTOWN
Matt Morrone has got to feel like a student trying to make his choice for college right about now — it's kind of a combination of anxiousness, hesitation, nerves and obvious excitement. All for a huge commitment that will potentially change his life.
Only Morrone, the athletic business manager for Youngstown State, is less concerned with going to school. Rather, he's hopeful his major commitment will help make the choosing process a little bit easier for others.
Morrone can't help but have those feelings as the deadline draws closer for the completion of the Watson and Tressel Training Site. The WATTS has a deadline of mid-June, and Morrone said everything is right on schedule. And he admits, he's just a little bit excited.
"Oh yeah, absolutely," he said. "There is anxiety to get it done, and there is the anxiousness of wanting to use it. But there is also the hesitation of what we got into. It's a very exciting time."
The facility's structure is almost complete. Siding is still being placed, but soon it will be a matter of touch-ups and aesthetic work.
The artificial turf playing surface was laid on the football field this week. And the asphalt for the track was put down a couple of weeks ago. Morrone said it takes roughly 30 or 40 days to cure before the final surface can be placed.
That surface was ordered from the Mondo company, and is the same material used in the last Olympic games, Morrone said.
"It's the Cadillac of track surfaces," he said.
After the surfaces are taken care of, it's a matter of painting and doing some other small jobs, Morrone said. Then, it's time to open the doors for good.
And it's been a long time coming, too.
Like many construction projects, the WATTS project has seen its share of delays. The facility, which the school hopes will act as a major recruiting tool, was originally supposed to be completed by the close of 2010.
But construction issues as well as Mother Nature pushed back the deadline to this past February. More delays moved that date to June. And this time, it's hopefully going to stick, Morrone said.
"If you had been in that building a month and a half ago, and then walked through today you'd be amazed," he said. "It really has come a long way in the last month and a half.
"It's not a building where you can just put all the siding up in a day. It's a 125,000 square-foot building," he added.
For Morrone, it's worth the wait.
If finished on schedule, the facility will be open and on display during the heart summer workouts. That, Morrone hopes, will be incentive enough to make up those uncertain minds when it comes time to choosing YSU or a similar school.
"To me, I hate to say it, but it's not even going to be a competition," he said. "Students are coming on campus to look at the facilities and when they see that they're impressed."