Black group warns Youngstown BOE not to interfere

Photo
Lock P. Beachum Sr., Youngstown city school board president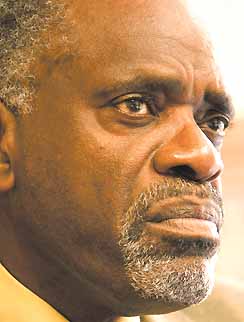 Photo
Youngstown City Schools Superintendent Connie Hathorn
By Denise Dick
YOUNGSTOWN
The Campaign for African-American Achievement supports the city schools reorganization plan, with some conditions.
Jimma McWilson, campaign organizer, said that if board members try to undermine Superintendent Connie Hathorn's plan to improve the schools, the school district could face sanctions.
Those sanctions include parents removing their children from the city schools.
The campaign terms itself "the African-American community's response to the social, academic and career crisis facing our youth, families and community," according to its website.
McWilson said there were incidents of some board members undercutting former Superintendent Wendy Webb's efforts to improve the schools.
"I support your plan, but be careful," Robinette Brady, group member, told Hathorn at a school board meeting Tuesday. "I've seen board members undermine the previous superintendent." Lock P. Beachum Sr., board president, said that all seven school board members support Hathorn's plan.
The plan, effective next school year, will convert Chaney High School to a visual and performing arts and science, technology, engineering and math school for sixth- through 12th-graders. East will have an elective focus on business, education and law. There will also be two sixth- and seventh-grade and one eighth- and ninth-grade academy.
Beachum said board members aren't administrators. Saying he didn't want to get into things that may have occurred in the past, he asked Hathorn if any board member had tried to interfere with the administration of the district.
"No, we have an understanding," Hathorn answered. "I run the school district, and the board provides the policies."
One example McWilson gave of Webb being undermined was when she and others from the district visited Akron Public Schools to learn how that district has improved test scores. Webb presented those best practices to the school board, McWilson said, but board members didn't want to implement them.
John Clark, council elder for African Village, an African-centered charter school being developed in the city, said that in 2007, the district was ranked in academic watch and that Webb had plans to bolster test scores.
"Due to the actions of the business community and some members of the board of education, that did not happen," Clark said.