Woman apologizes at sentencing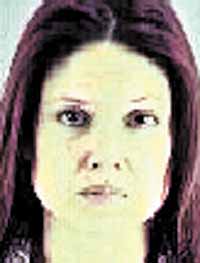 Photo
By Ed Runyan
WARREN
Through tears, Andrea Luchette, 39, of Yankee Run Drive, Masury, apologized to the court for the crimes she committed while working as a pharmacist at Overholt's Champion Pharmacy.
"I do not offer the court any excuses for my behavior. I am sorry. I let down my profession, and I let down my family," she said Monday to Judge Peter Kontos of Trumbull County Common Pleas Court.
Judge Kontos said Luchette had no previous criminal record.
Luchette and pharmacist Robert Gaves, 65, of Orchard Street, Newton Falls, pleaded guilty to five counts of complicity to deception to obtain a dangerous drug in March for filling prescriptions for a now-deceased Middlefield pain-management doctor in 2007 and 2008 that were sometimes 10 times higher than the normal dosage.
The pharmacy's former owner, Ken Overholt, 56, of Pierce Road in Champion, was a Champion Township trustee from 1982 to 1997.
He pleaded guilty recently to five counts of aggravated drug trafficking in the case and has agreed to serve 18 months in prison if he is healthy enough to report. He is extremely ill with a chronic lung condition. Overholt forfeited $100,000 in drug proceeds to the court.
The doctor, Dr. Peter Franklin, 73, of Bainbridge Township, Geauga County, wrote thousands of prescriptions and indicated that they could be filled only at Overholt's Champion Pharmacy, which was sold last year to new owners.
Dr. Franklin's wife, Sandra, killed him during an argument in August 2009 and is serving a 15-year prison sentence.
Judge Kontos sentenced Luchette to five years' probation, suspended her driver's license and ordered her to give 100 hours of community service.
Luchette, who obtained her pharmacy license in 1996, told Judge Kontos she "worked hard to obtain a post-graduate degree" as a pharmacist and hopes she will be allowed to work as a pharmacist again someday.
The Ohio State Pharmacy Board in Columbus suspended Luchette's pharmacy license last month, and a full board hearing will take place in August to determine whether she will ever be allowed to get it back.
The pharmacy licenses of Overholt and Gaves also were suspended last month, pharmacy-board officials said. Overholt and Gaves also are scheduled for a full board hearing in August. Overholt's license lapsed last year.
The case was investigated by the Trumbull Ashtabula Group Law Enforcement Task Force and the Ohio State Pharmacy Board.
More like this from vindy.com