Mo. residents evacuate; 2nd storm system is on its way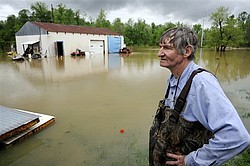 AP

Photo
Leon Gentry looks out over flood waters from Canoe Creek that surround his garage on Alma Avenue, after he spent the morning working to secure what he could from the rising water in Henderson, Ky., Monday, April 25, 2011. Heavy rain and severe storms are expected to continue throughout the week after most of the state received up to 4 inches of rain during the weekend. Rainfall totals for the past week range from 10 inches to 15 inches statewide, causing flooded rivers, streams and tributaries.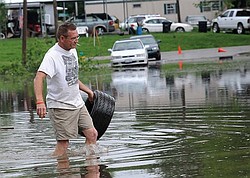 AP

Photo
John Brisentine walks through water nearly up to his knees Monday, April 25, 2011 as he carries a tire he found near the submerged intersection of 3rd and Vienna streets in Metropolis, Ill. The Ohio River is threatening homes in that part of the city.
Associated Press
POPLAR BLUFF, Mo.
Thunder roared and tornado warning sirens blared, and all emergency workers in the southeast Missouri town of Poplar Bluff could do Monday was hope the saturated levee holding back the Black River would survive yet another downpour.
Murky water flowed over the levee at more than three dozen spots and crept toward homes in the flood plain. Some had already flooded. If the levee broke — and forecasters said it was in imminent danger of doing so — some 7,000 residents in and around Poplar Bluff would be displaced.
One thousand homes were evacuated earlier in the day. Sandbagging wasn't an option, Police Chief Danny Whitely said. There were too many trouble spots, and it was too dangerous to put people on the levee.
Police went door-to-door encouraging people to get out. Some scurried to collect belongings, others chose to stay. Two men were rescued by boat.
It could be a long week of waiting for the rain to stop in Poplar Bluff and other river towns in the Mississippi and Ohio river valleys. Storms have ripped through parts of middle America for weeks, and they were followed Monday by heavy rain that pelted an area from northeast Texas to Kentucky.
In communities already hit by severe thunderstorms and tornadoes, residents watched rivers and lakes rise with a growing sense of dread. Some rented moving trucks to haul their possessions to safety, while others evacuated quickly, carrying their belongings in plastic bags.
The storm system that blew through northeast Texas, Oklahoma and Arkansas on Monday was expected to move into Illinois and Wisconsin today, said Greg Carbin, a meteorologist with the Storm Prediction Center in Norman, Okla.
At the same time, a second storm system will start along the same path, meaning several more days of rain. That system will continue east through Thursday, he said.
"I think we'll see substantial flooding," Carbin predicted, adding later, "Arkansas to Illinois, that corridor, they've already have incredible rainfall and this is going to aggravate the situation."
The region will get at least 6 inches of rain over the next three days, he said. An area east of Little Rock, Ark., stretching across Memphis and up to eastern Tennessee will be hardest hit with 8 to 9 inches.
Dozens of roads in multiple states have already closed because of flooding, leading several school districts to cancel class. Communities such as Paducah, Ky., in the Ohio River valley were building flood walls to hold back the water and adding rocks to the top of earthen levees. Others began sandbagging.
This winter's heavy snowfall raised fears of spring flooding across the Upper Midwest, but North Dakota and Minnesota rode out a late thaw without major damage.
Elsewhere, at least a dozen tornadoes touched down in Texas and Arkansas on Monday, and officials said several people were injured in Arkansas, including one child.
More like this from vindy.com