OSU receives letter of violations by Jim Tressel from NCAA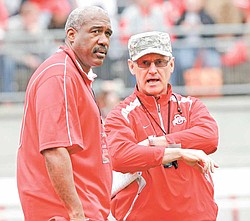 ASSOCIATED PRESS

Photo
This April 23, 2011, file photo shows Ohio State director of athletics Gene Smith, left, talking to head football coach Jim Tressel, right, before an NCAA college football Spring Game, in Columbus, Ohio. The NCAA is accusing Tressel of lying to hide violations by players who traded memorabilia for cash and tattoos. In a "notice of allegations" sent to the school, the NCAA said Monday, April 25, 2011, that the alleged violations relating to the coach are considered "potential major violations."
Ohio State Notice of Allegations - Cover Letter


Document
Ohio State Notice of Allegations


Document
Associated Press
COLUMBUS
In a sharply worded rebuke of Ohio State's Jim Tressel, the NCAA on Monday accused the 10-year coach of withholding information and lying to keep Buckeyes players on the field who had accepted improper benefits from the owner of a tattoo parlor.
In a "notice of allegations" sent to the school, the NCAA said Monday that the violations relating to the coach are considered "potential major violations."
Ohio State was not cited for the most serious of institutional breaches since Tressel hid information from his superiors for more than nine months. The university has 90 days to respond to the ruling body of college sports' request for information before a scheduled date before the NCAA's committee on infractions on Aug. 12 in Indianapolis.
In a 13-page indictment of Tressel's behavior, the NCAA alleged that Tressel had "permitted football student-athletes to participate in intercollegiate athletics while ineligible." It also said he "failed to deport himself ... (with) honesty and integrity" and said he was lying when he filled out a compliance form in September which said he had no knowledge of any NCAA violations by any of his players.
Athletic director Gene Smith said he would have "no comments until the case is resolved." The university issued a statement that the allegations were consistent with what it had already self-reported to the NCAA on March 8.
Tressel's troubles began with an April 2, 2010, email from Columbus lawyer Christopher Cicero. Cicero, a former Ohio State walk-on player, informed Tressel that a federal agency had raided the house of tattoo-shop owner Eddie Rife and discovered a multitude of autographed Ohio State jerseys, cleats, pants and helmets, Big Ten championship rings and the "gold pants" trinkets given to Buckeyes players for beating archrival Michigan.
Tressel responded, "I will get on it ASAP."
Yet he did not notify Smith or Ohio State president E. Gordon Gee, anyone else in the athletic department, the NCAA compliance department, or anyone in the university's legal department. Instead, he forwarded the email to Jeannette, Pa., businessman Ted Sarniak, a friend and mentor to star quarterback Terrelle Pryor, who was subsequently discovered to be one of the players involved with Rife.
The Columbus Dispatch reported Monday that Tressel went on to exchange at least 12 emails with Cicero, and also had numerous lengthy telephone conversations with Sarniak over the weeks and months ahead. Tressel still did not tell any of his superiors, anyone at the NCAA or his own compliance or legal departments.
In September of 2010, Tressel even signed a mandatory and rather routine Ohio State compliance form which clearly and simply asks if he the coach has knowledge of any NCAA violations. By signing and dating it, he said that he did not.
The U.S. Attorney contacted Ohio State in December to notify the university that it had come across the memorabilia. That prompted a cursory investigation — Smith conceded to The Associated Press last week that the effort was rushed — that did not turn up the telltale emails between Cicero and Tressel but did uncover the players' involvement with Rife. After consulting with the NCAA and the Big Ten, Pryor and four other top players were handed five-game suspensions — curiously not including the next game, the Sugar Bowl, but beginning with the first five games of the 2011 season.
Tressel was asked at a news conference if the players knew they were doing something wrong.
"I suppose that would be something rattling around inside the head of each of them individually," he said. "We all have a little sensor within us, 'Well, I'm not sure if I should be doing this."'
At the same time he said that, Tressel later admitted he was covering up his own knowledge of the players' violations.
The NCAA and Ohio State say the case against the players is closed.
It was only when Ohio State began appealing the players' suspensions that it uncovered the emails, leading to Tressel ultimately receiving a five-game suspension and a $250,000 fine. Smith said last week that the fine given to Tressel — who makes around $3.5 million a year — would not cover Ohio State's costs of the investigation.
The NCAA could accept Ohio State's suggestion of sanctions — the five-game suspension and the fine — or could levy much more severe penalties. Since the NCAA says that Tressel knowingly used ineligible players, it would seem probable that the 2010 regular season would be vacated — ending the Buckeyes' run of Big Ten titles at six in a row. The NCAA could also come down hard on Tressel, compelling Ohio State to add to Tressel's suspension or issue sanctions leading to the school firing him.
More like this from vindy.com