Austintown board cuts school personnel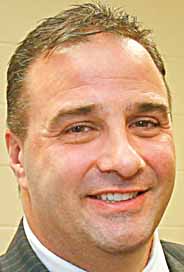 Photo
Austintown Superintendent Vince Colaluca
By Kristine Gill
AUSTINTOWN
Members of the school board cited "financial difficulties" Monday in eliminating 12 full-time teaching positions, nine full-time nonteaching employees, and 16 part-time nonteaching positions.
More than 100 additional positions were not renewed as part of annual evaluations of those positions and personnel, many of which are non-teaching or parttime.
The district is facing a loss of $1.7 million for next school year, said Superintendent Vince Colaluca and Treasurer Mary Ann Herschel. The two gave an update on the state of the schools at the beginning of the meeting, citing concerns about the governor's budget and its expected impact.
"We are trying to save jobs not eliminate them," said Louis Chine, board vice president. "Almost all of the other school districts around us are smaller than we are and making more cuts than we are."
In the meantime, school officials are taking a close look at a long list of non-renewed positions such as tutors, bus drivers and custodial staff to see whether any money can be saved in not having some of those employees return next year. Colaluca expects to have more answers at the next board meeting at 6 p.m. May 17.
Some of these cuts might not be necessary as the district's finances become clearer later this year.
Of the 12 full-time teaching positions that were eliminated, nine were due to retirements.
Of the 16 part-time non-teaching positions and nine full-time nonteaching employees, 11 were paraprofessionals, nine were sweepers or cleaners, four were bus drivers and one was a secretary.
Nine long-term substitute-teaching positions were not renewed due to pregnancies or medical issues.
For the past two years, the district received federal stimulus money through the state budget under former Gov. Ted Strickland's administration. Though Gov. John Kasich's budget increases state aid to schools, it does not make up for the money lost when those temporary stimulus funds disappear next year.
That loss, coupled with losses in tangible personal property tax, which is being re-evaluated by the state, means the district will have $1.7 million less for the 2012-13 school year.
"There are definitely changes that need to happen for us to continue offering these services to students," Herschel said.
A little more than $1 million is available through a federal education jobs fund awarded to the district this year but not spent. Herschel said the money can be used next school year.
More like this from vindy.com