Giffords is able to walk a bit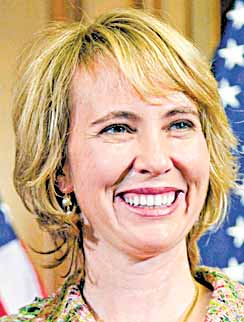 Photo
ASSOCIATED PRESS
In this photo taken Wednesday, Jan. 5, 2011, Rep. Gabrielle Giffords, D-Ariz., takes part in a reenactment of her swearing-in, on Capitol Hill in Washington. Rep. Gabrielle Giffords of Arizona was shot in the head Saturday, Jan. 8, 2011 when an assailant opened fire outside a grocery store during a meeting with constituents, killing at least five people and wounding several others in a rampage that rattled the nation.
Associated Press
PHOENIX
Doctors say Rep. Gabrielle Giffords can walk a little and is even trying to improve her gait. But the report Sunday in The Arizona Republic adds the congresswoman is planning to "walk a mountain."
Giffords uses her left side and has begun making limited use of her right arm and leg, a common effect of a bullet wound on the left side of the brain, said Dr. Gerard Francisco, chief medical officer at Houston's TIRR Memorial Hermann who works with Giffords daily.
Even in her wheelchair, Giffords has stringent posture: tall, tight, strong — like always, said Pia Carusone, her legislative chief of staff.
Nurse Kristy Poteet said Giffords pushes a cart up and down the hospital halls as therapy, focusing on using the correct muscles. More therapy comes from games of bowling and indoor golf.
The Republic report — containing interviews over the past few days with her husband, doctors and others close to her — gives the latest picture of her recovery 15 weeks after a gunman opened fire in a Tucson parking lot, killing six people and wounding 13 others, including Giffords.
Giffords' husband, Mark Kelly, said in an interview with CBS News that she'll attend Friday's launch of his space shuttle mission in Florida. It will be the first time Giffords has traveled since she was flown from Tucson to Houston more than three months ago to undergo rehabilitation for the gunshot wound to her head.
More like this from vindy.com