Gadhafi's forces barrage rebel city with shells, rockets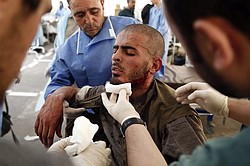 ASSOCIATED PRESS

Photo
Medics work on an injured man at Hikma hospital in Misrata, Libya, Sunday, April 24, 2011. Rebel fighters drove Moammar Gadhafi's forces to the edge of the besieged western city of Misrata on Sunday, taking control of the main hospital where government troops had been holed up, a resident said.
Associated Press
TRIPOLI, Libya
Moammar Gadhafi's forces unleashed a barrage of shells and rockets at Misrata on Sunday in an especially bloody weekend, countering Libyan government claims that the army was holding its fire into the western city.
Despite the barrage, which doctors say killed 32 and wounded dozens in two days, rebels said they drove the last pro- government forces from the center of Libya's third-largest city. Morale among Gadhafi's troops fighting in Misrata has collapsed, with some abandoning their posts, said one captured Libyan soldier.
The battle for Misrata, which has claimed hundreds of lives in the past two months, has become the focal point of Libya's armed rebellion against Gadhafi since fighting elsewhere is deadlocked.
Video of Misrata civilians being killed and wounded by Gadhafi's heavy weapons, including Grad rockets and tank shells, have spurred calls for more-forceful international intervention to stop the bloodshed in the rebel-held city.
In Washington, three members of the Senate Armed Services Committee said more should be done to drive Gadhafi out of power, including targeting his inner circle with airstrikes. Gadhafi "needs to wake up every day wondering, 'Will this be my last?'" Sen. Lindsey Graham, a Republican on the committee, told CNN's "State of the Union."
NATO's mandate from the U.N. is to try to protect civilians in Libya, split into a rebel-run east and a western area that remains largely under Gadhafi's control. Though the coalition's airstrikes have delivered heavy blows to Gadhafi's army, they have not halted attacks on Misrata, a city of 300,000 people besieged by Gadhafi loyalists for two months.
Still, in recent days, the rebels' drive to push Gadhafi's men out of the city center gained momentum.
Late last week, they forced government snipers out of high-rise buildings. On Sunday, rebels took control of the main hospital, the last position of Libyan troops in the center of Misrata, said a city resident, who gave only his first name, Abdel Salam, for fear of reprisals. Throughout the day, government forces fired more than 70 rockets at the city, he said.
This morning, an airstrike on Moammar Gadhafi's sprawling compound in Tripoli left three buildings badly damaged.
Authorities say between two and four large missiles or bombs exploded in the compound early today, lightly wounding four people.
The buildings, described as locations where Gadhafi conducts meetings, were badly damaged with the roof of one of the structures caved in.
More like this from vindy.com