Canfield's Babbaro not afraid to dream big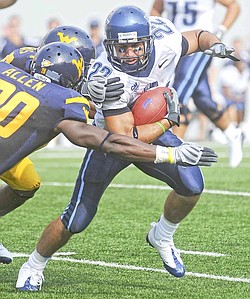 ASSOCIATED PRESS

Photo
Villanova's Angelo Babbaro (22) looks to run by West Virginia's Franchot Allen (20) during the second quarter of a football game Saturday, Aug. 30, 2008 in Morgantown, W.Va.
By Joe Scalzo
YOUNGSTOWN
Angelo Babbaro wakes up each morning at 7, is in the training room from 8 to 9:30, works out from 10 to 12, does his internship at the Gift of Life Donor Program from 1-5, then goes to class from 5:30 to 7:30.
"I'm pretty slammed," he said.
Classes end this week. He'll be six credits away from his master's degree in human resources development.
That's Plan B.
Plan A is why he's doing all those other things.
Babbaro, a Canfield High graduate who spent the last four years playing running back at FCS Villanova, is hoping his speed and versatility will catch the eye of an NFL team and earn him — at the very least — a training camp invitation.
He knows he's a longshot to get drafted this weekend — "Free agency is usually the shining light at the I-AA level," he said — but all he wants is to get his foot in somebody's door.
"I just want the opportunity to put that helmet on," said Babbaro, who was named Villanova's male student-athlete of the year last spring after graduating with a 3.6 grade point average in economics. "Once I'm there, I think they'll see my versatility."
Although listed as a running back, Babbaro has played on all four special teams units and also lined up at times in the slot and even at quarterback in the spread formation.
At 5-foot-9, 195 pounds, Babbaro knows he doesn't have ideal size for the NFL. But his other measurables are strong. He ran a 4.39 40-yard dash at Villanova's pro day, did 20 reps at 225 pounds on the bench press, broad jumped 9 feet, 10 inches and had a 37-inch vertical.
Afterward, he talked to six teams and took a few personality assessments.
Since then, his rating on several draft sites has gone up. CBS's NFL Draft Scout, for instance, ranks Babbaro as the 47th-best running back out of 190, and the 541st-rated prospect out of more than 2,000. Both are in the top 25 percent.
Normally, undrafted players get picked up within hours after the draft. But because of the lockout, all NFL business involving players ends when the draft ends, so Babbaro may have to wait weeks or months to get his chance.
Teams can still talk to players during the draft so he is hoping to have a good idea of which teams are interested before the seventh round ends on Saturday.
"The whole thing is a little confusing so I'm just trying to mentally focus on working out and getting better," he said. "I'll be looking at my cell phone a lot, carrying extra chargers."
Babbaro knows people see him as a longshot, but said that's how his whole football career has gone.
"When I was in high school, people said I was too small to earn a Division I scholarship," he said. "When I got one, they said I was too small to be a Division I running back. Now everyone says I'm too small to play in the NFL.
"But that's what motivates me. It's exciting for me to try to prove people wrong."
More like this from vindy.com