Trying to sort out Ohio schools budget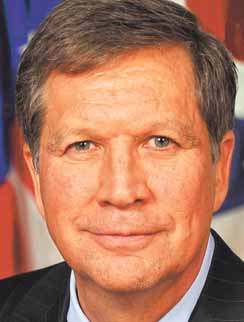 Photo
By Jim Siegel
Columbus Dispatch
COLUMBUS
Nearly six weeks ago, Gov. John Kasich stood before a roomful of reporters to roll out his proposed two-year budget and give Ohioans his first definitive statement about his plans to fund public schools.
"Let me give you a couple of the things that will surprise you," he said. "Basic foundation aid for K-12 slightly increases."
True statement? Technically, yes.
The whole story? Absolutely not.
"That was a pleasant shock, followed by the cold, hard reality that he didn't have a magician's wand," said Damon Asbury of the Ohio School Boards Association.
Since then, Ohioans have seen a series of school-funding updates adding to, subtracting from or adjusting the earlier totals. The upshot: State legislators, school leaders, the news media and taxpayers still are trying to navigate the rhetoric and fit together an array of pieces to assemble a full picture of how Kasich's two-year, $55.5 billion budget really would affect schools.
"It's more difficult to get the impact out to the public because they're seeing all of these numbers," said Steve Osborne, treasurer of Dublin schools. "There are so many different components, and we are trying to keep it straight. It's tough."
The first district-by-district breakdown of school funding, posted in late March by Kasich's Office of Budget and Management, reflected what Kasich said during his budget rollout: funding increases for 421 districts — more than two-thirds — in the 2012 fiscal year, and 405 districts in 2013.
But those numbers focused solely on state per-pupil aid and did not include other key data: $450 million in lost federal stimulus money that districts used for basic operations this year and an accelerated phaseout of reimbursements for lost tangible personal-property and utility taxes that would cost schools more than $700 million in revenue.
When the bigger-picture figures were taken into account, small funding increases turned into a 9-percent cut in 2012 and an additional 2.5-percent cut in 2013 — a two-year reduction of $852 million. In all, 211 districts are looking at reductions of 10 percent or more in the 2012 fiscal year, which begins July 1.
Republicans and public-school advocates have tried to push that figure in opposite directions.
Kasich said last week that the talk of deep cuts has been "vastly overblown. There is no school district in Ohio that will see their state, federal and local funding go down more than 7.9 percent."
That figure dilutes the state cuts by using a "total" school-budget number in 2012 that includes local money generated from property and income taxes. Past Statehouse school-funding discussions typically have not focused on this figure because it goes beyond what the state can control.
Meanwhile, a coalition of groups representing school boards, superintendents and treasurers estimates the two-year cut to schools at $3.1 billion. That counts the loss of earmarked federal money that is not part of basic operations, and it uses an accounting method that greatly increases the funding loss in the second year of the budget.