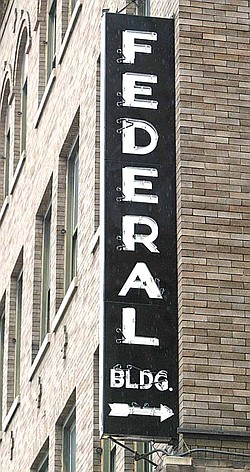 The Vindicator

Photo
The Federal Building is at 18 N. Phelps St. in downtown Youngstown.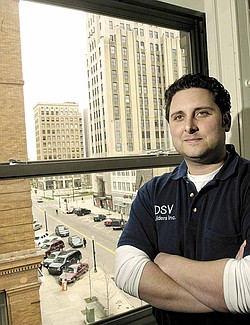 The Vindicator

Photo
Dominic Gatta III shows off the view from an apartment on the third floor of the Federal Building in downtown Youngstown.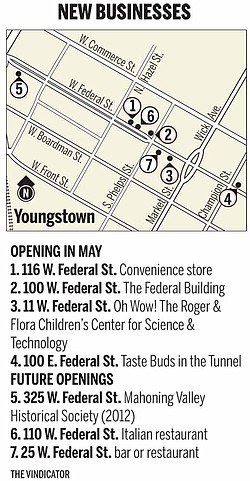 Photo
YOUNGSTOWN
After a busy period of development from 2005 to about mid-2008, some downtown Youngstown businesses ran into a rough time with a number of them, primarily restaurants and bars, shutting down.
But a second renaissance may be in downtown's future.
"There's no question that downtown Youngstown is the best place to start a business," said Jacob Harver, who opened the Lemon Grove Café and Lounge at 122 W. Federal St. in June 2009. "The new businesses opening up are great additions to the already established centers."
By this time next month, newly opened downtown businesses will
include:
A 14-apartment complex with 12
already leased on the upper three floors of the four-story Federal Building, 100 W. Federal St. The V2 Wine Bar Trattoria, a restaurant to be
operated by the owner of Vernon's Café in Niles, is expected to open on the building's first floor in June.
Oh Wow! The Roger & Gloria Jones Children's Center for Science & Technology at the former McCrory's Building, 11 W. Federal St.
Taste Buds in the Tunnel, a restaurant and bar in the basement of the City Centre One building, 100 E. Federal St.
A Mediterranean deli and convenience store in the former Plaza
Optical location, 116 W. Federal St.
"There's a lot of things happening downtown, and it's all good news," said Dominic L. Gatta III, co-owner of the Federal Building. "Business is picking up downtown."
Also, a bar or restaurant at 25 W. Federal St. and an Italian restaurant at the former Tomasino's Pizza location at 110 W. Federal St. are both expected to open in the near future.
The Mahoning Valley Historical Society plans to open next year at the Harry Burt/Ross Radio Building, 325 W. Federal St.
"With the opening of the children's museum and then the historical society, we'll start to see more families coming downtown," Harver said. "That will be the big potential coming up."
In addition, 20 Federal Place, the city-owned office building at 20 W. Federal St., has filled up its food court, and VXI Global Solutions, the structure's largest tenant, increased its work force in the past year from 500 to 1,100 workers. The Love Lounge opened Dec. 31, 2009, at 15 W. Federal St., a few months after Skeeter's Jazz Bar & Grill closed.
"Even though we went through the recession the past two years, we're seeing a lot of new businesses opening downtown," said Lyndsey Hughes, the city's downtown director of events, special projects and marketing. "It's going to be a really big year for downtown."
Al and Fidaa Musleh, owners of the convenience store at 116 W. Federal St., are in dispute with the city planning commission over approval to sell beer and wine for carryout at their location. But they're still excited about opening downtown.
"Downtown is growing; there's a movement," Al Musleh said. "The future of downtown is bright."
It wasn't that long ago that a number of downtown businesses closed.
They included the Rosetta Stone Café & Wine Bar at 110 W. Federal St. in August 2010, which had opened to much fanfare in January 2008 and was viewed as a harbinger for the revival of downtown.
A month earlier, the new owners of the Federal Building — who bought it in October 2009 — required several of its tenants to move out. One of them, Geo's Music, relocated to 228 W. Boardman St. Madeline's Alterations, Bob Barko's Steeltown Studio and Hootenanny Vintage Guitars were allowed to stay and remained open during the building's $2.5 million renovation.
Also, in mid-2008, closings included Anthony's On The River at 15 Oak Hill Ave., The Core at 36 W. Federal St., and Martini's Downtown, where Taste Buds in the Tunnel will be located. Under previous ownership, the basement of the City Centre One building was called The End of the Tunnel.
David Padula, owner of Taste Buds in the Tunnel, said the name of his restaurant pays tribute to the former name.
More like this from vindy.com
April 24, 2011 12:01 a.m.