Donovan Fletcher hopes to join his brother in NFL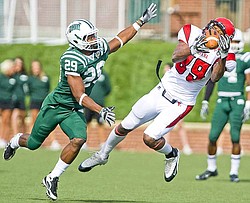 ASSOCIATED PRESS

Photo
Ohio safety Donovan Fletcher (29), a Liberty High graduate, tries to break up a pass intended for Louisiana- Lafayette tight end Ladarius Green during a game last season.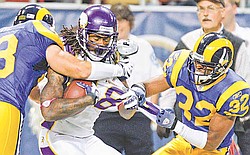 ASSOCIATED PRESS

Photo
Donovan Fletcher's brother, Bradley (32), moves in for a tackle on Vikings receiver Sidney Rice in a 2009 game.
By Joe Scalzo
On April 26, 2009, Donovan Fletcher was watching the NFL draft inside Ohio University's Jefferson Hall. It was a Sunday, just after 10 a.m., and the third round had just started.
His older brother, Bradley, was coming off a strong senior year at cornerback for the University of Iowa and was likely to get selected at some point that day, but no one was sure if it would be in the third round — or the seventh.
"I was probably more anxious than he was," said Donovan, a Liberty High graduate. "I had my eyes glued to the TV and even though I was hungry, I wasn't getting up."
For the first pick of the third round, the New York Jets traded up to snag Iowa running back Shonn Green. The next name to pop up on the screen was Bradley Fletcher.
The St. Louis Rams had taken him with the second pick of the third round.
"I got up and started yelling and screaming and people were walking past me, looking at me crazy-eyed," Donovan said, laughing. "I was sweating and everything."
At that point, Donovan had just finished his sophomore season as a backup safety and the NFL seemed more like a dream than a goal. But, a day earlier, Donovan had watched his teammate, safety Mike Mitchell, get drafted by the Oakland Raiders in the second round.
He realized he had grown up with one NFL player and sat directly behind another for three years. He saw what it took to get there.
And that's when he said to himself, "Maybe I can do this."
In the mix
Seventeen players with Mahoning Valley ties appeared on either a NFL roster or practice squad last season, including Bradley, who started 15 of 16 games for the Rams.
Seven more players — five from area high schools, two from area colleges — are in the mix to either get drafted this weekend or earn a free agent contract once the NFL resolves its labor dispute, which could take months.
Donovan Fletcher is one of those players. After three nondescript seasons at Ohio, he broke out last fall, playing in all 12 games (starting 11) and recording 68 tackles (second-best on the team) with a team-best five interceptions (including two against Ohio State) as the Bobcats went 8-4 and advanced to the New Orleans Bowl.
"I learned a lot from watching Mike Mitchell," Donovan said. "There was never a time when I got to the stadium and he wasn't already there watching film, perfecting his craft. I saw that you got out what you put in.
"I knew [safeties coach Jimmy] Burrow was only going to put guys out there that he trusted and I made sure I was prepared because I wanted to be one of those safeties. When my opportunity came, I was already prepared. I was like, 'I can't mess this up.' "
Donovan graduated with his organizational communications degree last year and has spent the last few months working out at Englebert Training Systems, both to get ready for Ohio's pro day (which took place on March 19) and to improve his skills. While Donovan isn't as fast as his brother, he is stronger and believes he possesses many of the same intangibles.
"Scouts are looking for prospects who love the game, have a great motor — both in practice and on the field — and are the type of athletes you want to have around," said Donovan, who credits Burrow and Leopards coach Jeff Whittaker for giving him a technique-based foundation. "There are a lot of athletes that are gifted and are born fast and strong but they don't work on their technique and they're not in the film room.
"I'm trying to make sure I do all the little things right."
Sibling success
Although rare, it's not that unusual to see brothers in the NFL. Peyton and Eli Manning are probably the most famous example, but there have been several others, including Ronde and Tiki Barber, Bruce and Clay Matthews (whose son, Clay, is now a linebacker for the Green Bay Packers) and, of course, the Browners out of Warren Western Reserve.
Joey Browner (a Vikings strong safety who played at USC) and Ross Browner (a longtime Bengals defensive lineman who led Notre Dame to the 1977 national title) are the most famous of the six Browner brothers, but Keith and Jimmy also played in the NFL and Willard and Gerald were both collegiate standouts.
Herb and Russ Stein of Niles are believed to be other only other Mahoning Valley brothers to make it to the NFL. Both played in the league's early years after All-America careers at Pitt and Washington & Jefferson, respectively. In 1925, they played together for the Pottsville Maroons.
Andy and Jack Cverko from Campbell would have both played in the NFL had Jack not blew out his knee at Northwestern. (Andy played for the Packers, who also drafted Jack. But Jack never made it because of the injury.)
Don Maggs had a long NFL career out of Tulane and his brother Bob, who was a Parade All-American out of Cardinal Mooney, was a two-time All-Big Ten selection at Ohio State before a back injury scared off NFL teams. The Jones brothers from North also came close, as A.J. played for the Rams and Packers and Mike was drafted by the Vikings, but never played a game.
Brothers and friends
Donovan, the son of Carl and Vikki Fletcher, is the youngest of four brothers who grew up in Cleveland's Glenville school district before moving to Liberty just before sixth grade.
"Growing up, we were very competitive," said Bradley, who spoke by phone earlier this week from St. Louis. "Whatever it was — out on the court, on the field, in a video game — we were competing.
"We always played with older kids and he was right there with us."
Donovan's college career mirrored his older brother's. Like Bradley, Donovan didn't break through until his senior year. Bradley followed his brother's career from afar — Ohio's games aren't exactly national TV staples — and usually called him on Saturdays to find out how things went.
"Once his senior year rolled around, he was able to get his opportunity, as I did, and just make the most of it," Bradley said. "I just told him to do whatever he can. Anything extra he could do, do it, so he'd be in the best position on Saturday. And he did that last year."
Bradley entered the draft knowing he'd likely be a mid-round pick. That isn't as clear with Donovan, who is ranked as the 36th-best safety by CBS's NFL Draft Scout. Making matters more clouded, if he doesn't get picked, Donovan could have to wait months before signing with a team due to the NFL lockout.
"I'm just keeping my head and my hopes high and taking each day as it comes," Donovan said. "It's an exciting time and I'm just trying to keep a smile on my face and have fun with the process.
"It's a privilege to play this game and if I'm fortunate enough to get to the NFL, every time I hit the field and I'm going to be thankful for that opportunity."
Bradley and Donovan text each other almost daily and talk on the phone every few days, offering encouragement and advice. Almost two years after his big day, Bradley now knows what his younger brother was going through.
"I'm just so excited and ready to see where he'll be next," Bradley said. "This is a big time in his life and I'm nervous and anxious myself.
"I'm just looking forward to seeing him continue his football career."
Area sports historian Terry Fagan contributed to this report.