Pavlik sparring session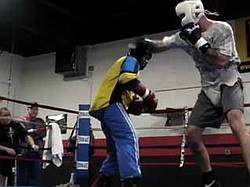 Video
Pavlik Spars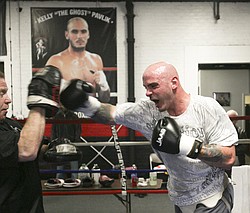 Gallery
Exactly one month from Thursday's workout,Kelly Pavlik (36-2, 32 KOs) will get back into the ring for the first time since he lost his middleweight championship belts 355 days before via unanimous decision to Sergio Martinez. He'll meet Alfonso Lopez (21-0, 16 KOs) in the co-main event of May 7's Manny Pacquiao-Shane Mosley bout at the MGM Grand in Las Vegas.
Fighter says May 7 bout most important of his career
YOUNGSTOWN
If it could be put into an equation, "postponements plus rehab equals credibility gap."
That may be the premise of Kelly Pavlik's statement that his upcoming super-middleweight fight against Alfonso Lopez is "one of the most important fights of my career, believe it or not."
It seems implausible, but careers in boxing — and life — aren't always predictable.
Although no new revelations surfaced, the former world middleweight champion was grilled during Friday's conference call about his status entering the May 7 non-title bout in Las Vegas as a co-main event on the Manny Pacquiao-Shane Mosley welterweight championship battle.
Questions from the mostly national media were three-fourths about addiction and one-quarter about training and the opponent.
"This is a very important fight where I have to go out and look good," Pavlik said of facing the lesser-known Lopez (21-0, 16 KOs) from Cut and Shoot, Texas.
Because he was on top of the world at one time and now re-enters the arena with questions about his career, Pavlik considers it as a second chance.
"Unfortunately, in most situations, most fighters with four or five losses and after a year-and-a-half layoff could get away with it and they'll say they look good. In my case — and it's nothing new because you see what happens in media columns — if I don't come back and perform with my 'A' game, then it's going to be brutal. So, I think this fight is important for me to get back out there and cement my name to the public. I think this is one of the most important fights of my career, believe it or not.
"I haven't had this much energy in a long time for a fight," Pavlik said of his 10-rounder. "I'm ready to to get back on track and start making noise again in the super-middleweight division."
Because of the non-title designation, the fighters may weigh a few pounds over the 168 limit.
Pavlik said that everything his camp wanted has transpired.
"We've never had such an easy time getting the number of sparring rounds [he's getting]," said Pavlik. "We don't have to focus on going to 15 different gyms to make weight. Focusing on boxing will make a big difference in this fight."
Trainer Jack Loew's input was positive, too.
"We could finally train like a fighter again, instead of training four or five times a day and four of them being about just trying to keep the weight down. So, it's great just getting running and conditioning and going to the gym and spending more time working in boxing. For a 10-round fight, we've probably had more rounds sparring than when we trained for some of his title fights."
Loew said Pavlik is more comfortable at a slightly heavier weight than his former 160 and it's has translated into an abundance of energy.
"I think that's a huge key in what we were doing to him to make that middleweight division," Loew said of the absence of "killer training" in preparation for past fights.
Pavlik said that the move up wouldn't affect his power.
"It's natural power, so I'm not concerned about that," the 6-foot-2 Southside Boxing Club fighter said.
"El Tigre" Lopez is the WBC Continental Americas super-middleweight champ, having won the belt in November when he beat Romaro Johnson of Cleveland by TKO in 12 rounds.
Top Rank president Bob Arum was asked about an after-Lopez scenario.
"The guy [Lopez] is no pushover. We'll see how he [Pavlik] does in this fight, then talk it over with the team and see who comes next. The super-middleweight division is rich with talent and Kelly, I hope and believe, fits in with all of them."
Pavlik's biggest concern is that Lopez is the underdog.
"He'll try to box and move, but the danger I see is that the kid's going to be a hungry fighter because this is a golden opportunity for him," said Pavlik. "He's no spring chicken in the sport and he's getting the opportunity of a lifetime. This could be his last chance. Anytime you get a fighter like that you've got to be on your toes and ready for him."
Pavlik's initial strategy isn't different from any other fight.
"I'm going to go in and do what got me where I'm at today," he said. "If I feel I've got to pick the pace up as it goes, I'll do that. If I feel that I can just sit there and pick shots and box — which is what we want to start doing again — then I think we'll have no problem with that.
"But that's the thing about boxing — you've got to have a back-up plan and be able to think quick in the ring because it doesn't always go the way you want it to go."