Fired Youngstown cop returns to duty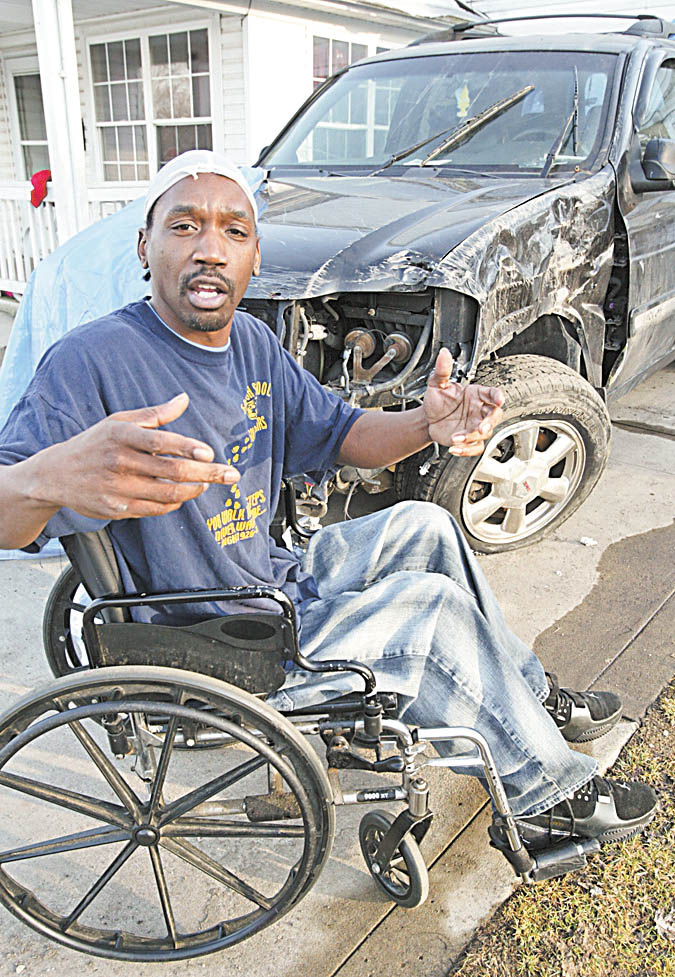 Photo
Willie Daniel of Youngstown, who is paralyzed from the waist down, explains what happened when his brother was driving the SUV in the background with him as a passenger. He said they were in an accident and a responding officer dragged him from the truck and roughed him up.
YOUNGSTOWN
One of two police officers fired in the reported beating of a paralyzed man in 2010 is back on the job.
Officer Jay Fletcher was fired in early June after an investigation into his role in the alleged beating of Willie Daniel, 36, of High Street, who is paralyzed from the waist down. An arbitrator has overturned Fletcher's dismissal, and he has returned to full duty.
Police Chief Jimmy Hughes said Fletcher will receive back pay for the time period he was off work fighting the termination. Fletcher's yearly salary was $54,383.
That back pay, Hughes said, will be less any unemployment compensation Fletcher received during that time.
Officer Robert Joliff also was fired. His termination, Hughes said, still stands, but the department is awaiting a ruling from a separate arbitrator in that case.
Joliff was terminated for his alleged role in assaulting Daniel.
Hughes said Fletcher was fired for not reacting properly at the scene of the incident. He said Fletcher is believed to have lied about what he witnessed during the traffic stop that led to the alleged beating.
"We gave [Fletcher] a polygraph test, and he failed that polygraph test based on what he did or didn't see. We, based on that, believed he was lying to us. He never said Joliff did not hit the guy, but basically said he did not see it," Hughes said.
Police arrested Daniel and charged him with driving under suspension and reckless operation after a car accident Feb. 27, 2010, on Wilson Avenue.
According to Daniel, he was in a SUV with his brother behind the wheel on Wilson Avenue when they were in a one-car accident. He said his brother left the vehicle to find a pay phone to call Daniel's wife and a tow truck.
Daniel said a tow truck rode by the accident shortly after his brother left the scene, and he slid into the driver's seat to flag down the driver. Daniel asked the driver for assistance but said he did not need to have the police called.
The tow truck driver, according to police reports, however, called police because he thought he saw a gun inside the vehicle in which Daniel was sitting. Police did not find a gun, but did find a black stick inside the vehicle.
Joliff arrived at the scene shortly after the call from the tow truck driver.
Daniel said Joliff, at gun point, used an expletive and told him he would hurt him if he moved. Daniel said he told the officer he was paralyzed and could not walk, but the officer told him to be quiet.
Daniel said Joliff handcuffed him through the window, then punched him in the mouth. He said the officer dragged him from the SUV causing his pants to come down.
Daniel said he asked the officer to help get him out of the road because he is handicapped, but was again told to shut up. He said he asked two other officers who had arrived at the scene for help, and Joliff again hit him in the mouth.
Hughes said the officers responded to the call with a heightened sense of awareness because they believed a gun was in the car, but said after it was determined no gun was in the car, there was no need for further aggressive action.
Hughes said police believed Daniel was driving without a license, and the car should have been towed and a summons issued.
"I don't condone police brutality in any fashion. I would like to see a system that removes brutality on any level, and it's my goal to do that," he said.
The original charges against Daniel were dismissed, and he was ultimately charged with operating a motor vehicle while intoxicated, which was amended to a physical-control violation. He was fined $200 plus court costs and placed on nine months' probation.