Veteran finally gets diploma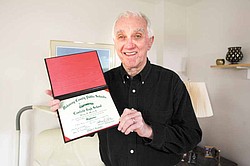 Photo
George Morris is a World War II veteran who just received his high-school diploma from the Canfield Board of Education. Morris joined the Army Air Corps before his senior year of high school and never graduated.
By Kristine Gill
COLUMBIANA
More than 60 years have passed since George Morris last walked the halls of Canfield Village Middle School — what was then the high school.
In that time, Morris, 82, has married, fathered five children, had "1,000 jobs" and served for the U.S. Army Air Corps during World War II.
He did it all without a high-school diploma.
"I never had a problem," Morris said. "Now, it's even hard with a college degree. That's how things have changed."
At the last Canfield Board of Education meeting, Morris received his diploma from Superintendent Dante Zambrini. The veteran enlisted in the Air Corps the summer before his senior year and never finished high school.
"It's been a humbling experience," Morris said. "I guess I did it for the self-satisfaction."
Morris, a Columbiana resident, learned of a program that awarded war veterans their diplomas after clipping an article from a newspaper.
"I cut it out and put it on my desk, and it laid and laid and laid until last September," Morris said.
That's when he made contact with Kevin Wain with Columbiana County Veterans Services who helped Morris send letters to Canfield schools.
"We just filled out the application for George and made sure it went to the right school system," Wain said, adding that the schools he's dealt with are cooperative in getting diplomas to vets.
When Morris didn't hear back from the school board, he followed up with a phone call and learned he needed to prove he attended the school in 1946.
Doing so would take some digging and the help of a fellow veteran.
Milton Kochert, a retired Navy captain and high-school history teacher at Poland and Austintown schools, helped school officials locate Morris' records in the basement of the board offices.
"Every once in a while, people contact me to ask about how to go about getting your diploma," Kochert said. "I tell them the best way is to go back to the superintendent of the schools. They can look to see if you're in the yearbook. Sometimes they make a formal presentation and give a full diploma or they hand it to you in an office somewhere."
Kochert and his wife, Nancy, who taught at the elementary level in Canfield, have helped several vets track down their records to get diplomas.
Morris' father served in World War I and enlisted in the Army again during WWII when Morris was still in grade school.
"My dad was an old military person and enlisted in WWII because he got this patriotic urge in his 40s," Morris said. "Of course my mother just had a fit and a half."
Morris' mother convinced his father to come home and he was honorably discharged.
Morris Jr. joined the Army Air Corps, which would later become the Air Force, in summer 1946 before his senior year of high school but never worried about graduating.
"I really didn't even think that much about it to be honest," he said. "I knew a lot of young men who came back and finished."
He went through basic training in San Antonio, Texas, and was hoping to enter radio-operator school but learned it was full. Rather than wait for an opening, Morris shipped out to Biloxi, Miss.
There, he worked as a clerk and nontypist in an orderly room as part of the administration squadron for men who were enrolled in the Aircraft and Engine Mechanic School. He was there for 23 months. He served his final 13 months in Tucson, Ariz., at the Williamson Air Force Base.
Morris was discharged July 19, 1949. He married his wife, Gerri, now 80, in 1951 and had five children, three of whom have since died.
Morris worked in credit and finance at several jobs over the years, even dabbling in the floral business. He and his wife lived in Ravenna for three years and in Florida for eight.
They now live next to their daughter and near their son in Columbiana. The couple will celebrate their 60th wedding anniversary in November.
Though Morris was happy to receive his honorary diploma, he said he never felt the void left by his high school diploma.
"I was self-educated, you could say," Morris said. "I guess I was pretty fortunate."