GM CEO gets $2.5M for 2010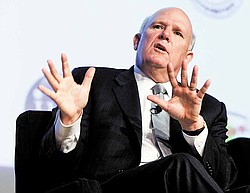 ASSOCIATED PRESS

Photo
General Motors Chairman and CEO Dan Akerson answers a question after his address to the NADA/IHS Automotive Forum 2011, in New York, Tuesday, April 19, 2011. (AP Photo/Richard Drew)
Associated Press
DETROIT
General Motors Co. CEO Dan Akerson received compensation of just over $2.5 million last year, mainly for his four months as the company's top executive.
Akerson took over the helm at GM as it wrapped up a remarkable year. GM returned as a publicly traded company, earned its first annual profit in years and increased U.S. sales.
Since he served as CEO for only part of 2010, his compensation was much smaller than other top GM executives, including his predecessor, Ed Whitacre, whose pay package was worth just over $5 million. Akerson, 62, served on GM's board before succeeding Whitacre on Sept. 1, 2010.
Akerson got a salary of $566,667, stock awards valued at $1.77 million and other compensation of $194,088. His 2010 compensation was disclosed Thursday in a regulatory filing.
Akerson replaced Whitacre just two months before the company's initial public offering in November. GM's board wanted a leader for longer than Whitacre was willing to stay.
Akerson's other compensation included $153,000 in pay for serving a full year on the board, as well as $13,000 in relocation expenses, $6,740 for security and just over $10,000 for company vehicles.
For the full year of 2011, Akerson's pay package will be larger. GM has said that he will get salary and stock worth $9 million annually.
Still, that's dwarfed by the $26.5 million received by Alan Mulally, CEO of Ford Motor Co., GM's biggest competitor.
Former Vice Chairman and Chief Financial Officer Chris Liddell was GM's highest-paid executive last year with a package worth $6.2 million. He left the company April 1 after being passed over when Akerson replaced Whitacre.
Whitacre's compensation included a salary of $1.1 million, $3.5 million in stock awards and other compensation of over $336,000. The other compensation included $300,000 for serving the full year as chairman and $13,000 each for life insurance and the company vehicle program.
The U.S. government has limited the amount of cash GM can pay its top 25 executives because the company still hasn't fully repaid its bailout money. The government has said cash payouts can't be increased this year, but the companies are being allowed to boost deferred stock awards to their executives.
GM pulled off a remarkable turnaround in 2010 after emerging from bankruptcy protection the year before. It went from losing more than $80 billion in the five years before its bankruptcy and needing a government bailout to earning $4.7 billion in 2010. It also became a publicly traded stock again in November and increased U.S. sales by 7.2 percent last year.
GM also said in Thursday's filing that its annual shareholders meeting would take place June 7 in Detroit.
The Associated Press formula calculates an executive's total compensation during the last fiscal year by adding salary, bonuses, perks, above-market interest the company pays on deferred compensation and the estimated value of stock and stock options awarded during the year.
The AP formula does not count changes in the present value of pension benefits. That makes the AP total slightly different in most cases from the total reported by companies to the Securities and Exchange Commission.
More like this from vindy.com