Brookfield hitters bounce back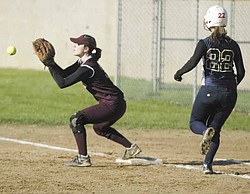 Photo
Liberty's first baseman Julie Mickulich catches the ball to make the play before Brookfield's Haley Hogue can reach the base during the first inning of Thursday's game in Liberty. The Warriors defeated the Leopards, 8-4.
PREP SPORTS
SOFTBALL
BROOKFIELD 8
LIBERTY 4
Next: Brookfield vs. Maplewood, Monday, 5 p.m.
Next: Liberty vs. Lakeview, Monday, 5 p.m.
One day after struggling at the plate, the Warriors get going in the first inning to topple Liberty.
By Greg Gulas
A day after Brookfield High's bats were silenced, the Warriors took their offensive frustrations out on Liberty with a 12-hit attack as they defeated the Leopards, 8-4 on Thursday.
The Warriors' offense never got untracked Wednesday as 16 batters struck out and despite a one-hitter by pitcher Alyssa Gould, fell to Reynolds, 2-1.
On Thursday, they raced to an early 3-0 advantage over Liberty (0-6) and, despite the Leopards knotting the score at 3-all in the fifth inning, scored five times over the final two frames to record their second win in eight outings.
"The key for us today was that we started to hit and Alyssa [Gould] was hitting her spots," said Brookfield coach Tom Reed. "She changed speeds, worked the corners and found a way to stay out of trouble.
"We're a young team that starts four freshmen, a sophomore and four juniors," Reed added. "We have no seniors on our squad so we're young and learning each and every time out."
Back to back singles by Caylin Corns and Shannon Chrnko highlighted the Warriors' two-run first inning while Leighanne Clayton's run-scoring double in the third stanza, her first of two in the game, extended the Brookfield lead to 3-0.
The Leopards cut the Brookfield (2-6) margin to 3-2 in their half of the third when Breana Comer's single scored Kimmy Cordy, and a sacrifice fly by Marissa Simon plated Victoria Simon.
Liberty knotted the game at 3-all on Victoria Serrano's third and final hit of the game; a double in the fifth inning.
Gould got the Warriors' rally started in the sixth with a two-out single, later scoring on Danielle DiCristofaro's run scoring single for a 4-3 margin.
Lauren Hawley's two-run double then scored Ashleigh Vivo and DiCristofaro to stretch the Brookfield lead to 6-3.
Gould, who had three hits offensively, also registered four strikeouts to pick up the mound decision.
"My fastball was working for me today, as well as my curve and triple [off speed curve]," said Gould. "It was nice to start the game with a lead and also to get some timely hits.
"We haven't hit that well in the clutch thus far so to get those types of hits today was a real bonus," Gould added.
The Leopards cut the Brookfield lead to 6-4 in the sixth when Taylor Dressel scored on Leah Leshnack's fielder's choice, but two insurance markers in the final inning by Brookfield put the game out of reach.
"We lost both pitchers from last year's team and we're a really young team," said Liberty coach Deanna Slifka. "I hate to lose more than anyone, but the flip side is that this really is a good group; a group that doesn't know the meaning of the word quit.
"They give 110 percent all of the time and we're now beginning to see some results. We struggled last year offensively, but that's an area now this season that is coming around; slow but sure," Slifka added.