Area players, coaches ready for 'Classic'
OHIO NORTH-SOUTH
ALL-STAR CLASSIC
When: Today
Kickoff : 4 p.m.
Where: Ohio Stadium, Columbus
TV: Sportstime Ohio (tape delay —Saturday, midnight; 4:30 p.m.)
Top Athlete: Akise Teague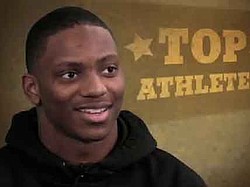 Video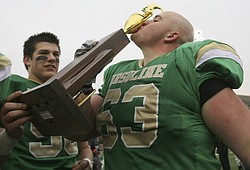 ASSOCIATED PRESS

Photo
Ursuline's Zach Conlan kisses the championship trophy as Corbin Adams looks on. The Ursuline Irish achieved their primary season goal: to win the state title for a record third-straight time. The Fighting Irish had an impressive end to their season with a 51-21 victory over Coldwater in the Division V State Championship game at Canton's Fawcett Stadium Saturday, Dec. 4, 2010.
Top player: John Sikora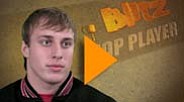 Video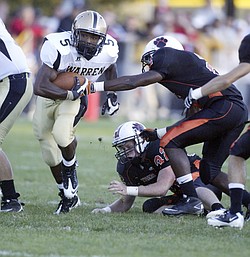 Photo
William D Lewis|The Vindicator Harding's Demond Hymes gets past Howland's Tony Osborne and Dan Russell during 1 rst qtr action Friday at Howland.
Today's North-South All-Star Classic will showcase some the best high school football talent in the Buckeye State beginning with kickoff at 4 p.m. at Ohio Stadium.
Campbell Memorial's John Sikora, Ursuline's Zach Conlan, Warren Harding's Demond Hymes and Poland's Darius Patton are four of the area's many players ready for the game that is linked to the same weekend of Ohio State's spring game.
When the North-South was switched from June to springtime last year, it was designed to be played a day before the OSU spring game. Since the Buckeyes' spring game this year is Easter weekend, the high school game was forced to be played on Good Friday.
Ursuline's Akise Teague, the 2010 Mr. Football, withdrew due to an ankle injury he sustained in a non-practice activity.
"He wouldn't have been at full strength," said Dick Angle, the North team's coach. "I told him if he's not going to be 100 percent, he shouldn't chance it, so he agreed so step aside."
Angle said it was "a freak thing" that is keeping the University of Cincinnati-bound Teague from playing.
"I didn't think he'd be ready," Angle said. "He'll be ready a week later [the first week in May], but we're playing the last week in April."
Teague, however, is expected to play in the Big 33 game in Hershey, Pa., in June.
Howland's Dan O'Brien was added, joining high school teammates Cody Reesman and Chris McClearn to the North roster. McClearn, a kicker-punter, made 10 field goals last season, including three of at least 47 yards.
"He's going to Notre Dame College in Cleveland on a full package," Angle said.
O'Brien is headed to Baldwin-Wallace and Reesman to Tiffin.
Although a defensive back at Harding, Hymes will be moved to offense to replace Teague.
Also added was Salem's Trent Toothman, who will play at Ball State.
The North squad had four practices and held a walk-through this morning.
"I think we're going to be ready — ready to beat the South," said Conlan, who played all offensive line positions for the Irish.
Conlan was part of YSU's latest recruiting class.
"I went to the spring game last Saturday and have been watching practices," said the 6-foot-1, 300-pounder. "I've been meeting coaches and getting around guys I'll be involved with for the next four years. I can't wait. I think it was the right decision for me."
The last game for the YSU-bound Hymes in 2010 was a regular-season game against Cleveland Heights, although Harding played another week and lost a playoff game to Glenville.
"I didn't play in that game because of high-ankle sprain," the 19-year-old Hymes said. "But it's an honor to be only one from Harding playing [North-South] this year. I'll treat it as a regular game and come out focused and go hard or go home."
Hymes may also see kick return and punt return duty.
John Sikora will have his father, Mickey, on the sidelines as an assistant.
"It'll be great to coach him one more time, as it was throughout his career and now to top it off with a game of this caliber," Mickey said of the rare father-son combination. "It's an honor."
His 5-10, 215 son is most likely headed to Waynesburg, where Rick Shepas is coach and athletic director.
"He feels comfortable with Shepas," Mickey Sikora said of his son's choice at the NCAA Division III school.
"He's getting a heck of a package," Sikora said of his son's 4.0 academic average.
Of Campbell's three valedictorians, two are football players.
"That's made my job a little easier," coach Sikora said of his son and Nick Opencar, an outside linebacker for Campbell.
John Sikora will see time as ILB and long snapper.