Severe storms tear across Ohio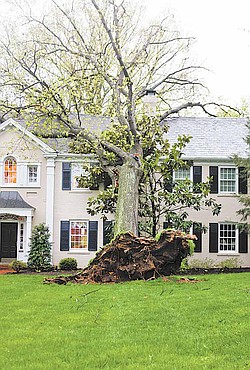 ASSOCIATED PRESS

Photo
A tree lies on a house on Creveling Lane in Mount Lookout, uprooted by the overnight storms, Wednesday, April 20, 2011, in Cincinnati.
Associated Press
TOLEDO
Severe storms with strong winds and possibly tornadoes tore across Ohio overnight, toppling trees into houses, ripping off store roofs and knocking out power from the southern end of the state all the way to Lake Erie.
Possible tornadoes were reported in rural western Ohio and suburban Columbus, the National Weather Service said. Survey crews determined that straight line winds nearing 100 mph destroyed a barn and toppled trees in Brown County, southeast of Cincinnati, the weather service said Wednesday.
The worst of the storms began late Tuesday and continued overnight, pushing over rail cars and tractor-trailers in northwest Ohio. No injuries were reported.
Winds ripped away the roof of a grocery store and collapsed one of its walls in the western Ohio town of Celina.
The storm also tore off the roof of a nearby home improvement store and destroyed several barns.
It was too early to determine whether it was a tornado that left behind a 2-mile path of damage in the town, said Mike Robbins, deputy director of the Mercer County Emergency Management Agency. Sirens didn't sound until after the storm hit because radar did not show any wind rotation, he said.
The high winds hit a sparsely populated area of town before moving into rural areas, he said.
The storms brought 1 to 2 inches of rain to western and southern Ohio, said Jeffrey Sites of the weather service.
That's on top of 1 to 3 inches of rainfall in some areas on Tuesday.
More than three dozen counties were under other flood advisories Wednesday.
About 55,000 customers were without power in the state Wednesday morning.
Trees and power lines were down in suburbs of Columbus, Toledo and Cincinnati, according to reports.
East of Columbus, winds reached 100 mph in Licking County and damaged three industrial buildings and an arts center built in 1861, The Columbus Dispatch reported.
A lightning strike led to a fire that damaged an empty brick building at a closed correctional center near Orient, southwest of Columbus, state prisons spokesman Carlo LoParo said. The fire did not affect operations at the nearby Pickaway Correctional Institution, he said.
More like this from vindy.com