Funhouse enthusiast likes the frights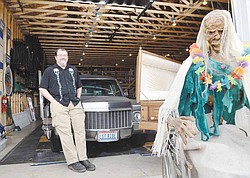 The Vindicator (Youngstown)

Photo
Rick Davis, founding member of Darkride and Funhouse Enthusiasts, stands in his garage workshop in Vienna.
THE TOP TEN
The 2011 Top 10 darkrides and funhouses, as ranked by members of Darkride and Funhouse Enthusiasts
DARKRIDES
Haunted Mansion, Knoebels Amusement Resort, Elysburg, Pa.
Haunted Mansion, Magic Kingdom, Orlando, Fla.
Whacky Shack, Waldameer Park, Erie, Pa.
Ghostwood Estate, Kennywood Park, West Mifflin, Pa.
The Amazing Adventures of Spiderman, Universal Studio's Islands of Adventure, Orlando, Fla.
Twilight Zone Tower of Terror, Disney's Hollywood Studio, Orlando, Fla.
Haunted Mansion, Funland, Rehoboth Beach, Del.
Haunted Mansion, Disneyland, Anaheim, Calif.
Pirates of the Caribbean, Disneyland Resort, Paris, France
Haunted House, Trimper's Rides, Ocean City, Md.
FUNHOUSES
Noah's Ark, Kennywood Park, West Mifflin, Pa.
Pirates Cove, Waldameer Park, Erie, Pa.
Frankenstein's Castle, Indiana Beach Amusement Resort, Monticello, Ind.
Ghostly Manor, Sandusky
Ghost Ship, Morey's Piers, Wildwood, N.J.
Funhouse, Jenkinson's Beach Boardwalk, Point Pleasant, N.J.
Confusion Hill, Idlewild Park, Ligonier, Pa.
Mysterious Mansion, Gatlinburg, Tenn.
Pirates Cove, Trimper's Rides, Ocean City, Md.
Nightmare Mansion, Virginia Beach, Va.
By GUY D'ASTOLFO
dastolfo@vindy.com
VIENNA Rick Davis is refurbishing a coffin in his workshop when a reporter arrives. Don't worry — nobody's getting buried. It's just a prop to be used in a spooky attraction. Thrills and chills are an active hobby for Davis, whose giant workshop next to his house contains a hearse (a bumper sticker on his truck truthfully reads "My other car is a hearse") and all manner of animatronic ghouls, ghosts and body parts. Every Halloween he sets up an elaborate haunted house in his yard and workshop. Open the door to an outhouse in his side yard and you'll see a skeleton "using" it, while a recorded vocal track comically asks passersby for a Sears catalog. But Davis reserves most of his enthusiasm for frights to two amusement park staples: the darkride and the funhouse. In fact, he is a co-founder and president of Darkride and Funhouse Enthusiasts (DAFE), an international group with more than three-hundred members. Darkrides — in which riders are put in a car or boat that meanders past scary scenes in a covered structure — were once staples of amusement parks. Many have disappeared over the decades — parks generally reserve the big bucks for roller coasters these days — but the remaining ones have become beloved fixtures. An electrical technician for the FAA at Youngstown-Warren Airport by day, Davis' amusing hobby is purely for fun. He started DAFE (pronounced "daffy") 10 years ago with his wife, Sue, and a friend, Joel Styer of Reading, Pa. The group visits attractions, often getting exclusive ride time and behind-the-scenes tours. It also documents each ride and takes on restoration projects.
"Most of our members are in Ohio, Pennsylvania, New Jersey and California," said Davis, because those states are where most of the darkrides still exist. Two of his favorite amusement parks are Kennywood, near Pittsburgh, and Knoebels, in central Pennsylvania. "Knoebels is a mom-and-pop park," said Davis. "If you go, you're likely to see the owner working on the rides." Both of the "K parks," as he calls them, embrace their old-time traditional charm. Kennywood topped DAFE's 2011 list of Favorite Dark Attraction Parks (parks that have at least one darkride, funhouse or haunted house). Members of DAFE vote each year on their favorite darkrides, funhouses and parks. Davis stressed that the lists are not based on any standards or data; they are purely subjective. If people disagree, well, they're welcome to join the group and vote for their own favorites, said Davis. For the 2011 lists, about 140 full-time and summer seasonal attractions worldwide were nominated (Halloween season attractions are not eligible). The top 10 darkrides list shows a mix of modern and traditional parks, as well as Boardwalk rides. Topping the list for the tenth straight year is Haunted Mansion at Knoebels, in Elysburg, Pa. A ride with the same name at Magic Kingdom in Orlando, Fla., was No. 2. Whacky Shack at Waldameer Park in Erie, Pa., and Ghostwood Estate at Kennywood are No. 3 and 4, respectively. The top 10 list of funhouses — similar to darkrides except thrill-seekers go in on foot — was lead by Noah's Ark at Kennywood, with Pirates Cove at Waldameer in second place, and Ghostly Manor in Sandusky in fourth place. For more information about DAFE, go to DAFE.org.