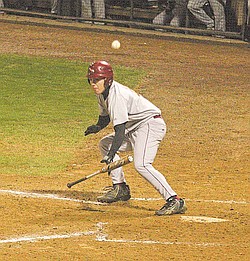 Special to the Vindicator

Photo
Cardinal Mooney batter Vic Kuchmaner tries to lay down a bunt during Monday night's game against Ursuline in Struthers.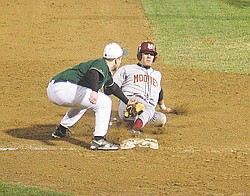 Special to the Vindicator

Photo
Ursuline infi elder Harrison Finelli puts the tag on Cardinal Mooney's Boo Vazquez during their game Monday night in Struthers.
Mooney 8
Ursuline 5
Next: Akron Hoban vs. Mooney at Cene, Wednesday, 4:30 p.m.
Next: Py. Valley vs. Ursuline at Cene, today, 7 p.m.
The Cards took an 8-1 lead then held off their rivals
By Greg Gulas
STRUTHERS
Ryan Gallagher struck out eight and allowed just one run in five innings of work and the Cardinal Mooney High baseball team withstood a late Ursuline rally to defeat the Irish, 8-5, Monday at Bob Cene Park.
"My fastball was working and I didn't throw too many curveballs," Gallagher said. "We got out to an early lead and that really helped.
"It's just a great feeling to be undefeated after the first seven games of the season."
Gallagher (3-0) saw his Cardinals (7-0) get on the board first in their half of the second when Drew DelSignore, Dan Dougherty and Danny Reese all singled with one out to load the bases.
A single by leadoff batter Frank Rondinelli then scored DelSignore with the game's first run, but the Irish avoided further damage when Dan D'Andrea lined out to shortstop Ryan Strollo, who then flipped the ball to Anthony Rohan at second base to double up Reese and end the inning.
Ursuline (5-3) loaded the bases with one out in the top of the third on a walk to Paul Kempe and back-to-back singles by Jeff Podolsky and Rohan. But Gallagher, who had eight strikeouts, struck out Harrison Finelli and Pete Garthwaite to end the inning.
In the bottom of the third, Mooney took a two-run lead when Brandon Sklenar's single plated Vic Kuchmaner, who had tripled with two outs.
The Cardinals broke the game open in the fourth when they sent nine batters to the plate, scoring four times on just two hits. They were aided by three Ursuline walks and an error.
The Irish finally got on the board in the fifth when Kempe singled to lead off the frame, later scoring on a single by Garthwaite to cut the deficit to 6-1.
Mooney added to its lead in the bottom of the inning when D'Andrea's fielder's choice plated Nick Buffa and Nick Vasquez' single scored D'Andrea for an 8-1 margin.
Strollo's two-run single highlighted a four-run seventh inning for the Irish, but it was too little, too late for Ursuline (5-3).
"It was a typical Ursuline-Cardinal Mooney match-up," Mooney coach Al Franceschelli said. "Ryan [Gallagher] pitched outstanding tonight and all of the hard work in the offseason by the players is beginning to pay off for us.
"The kids have really responded and that is a great feeling."
Mooney had 11 hits with Reese's two singles leading the way.
Rohan and Garthwaite each had two hits for Ursuline.