Dixie Dandies Dixieland Band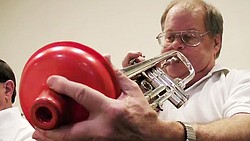 Video
The Dixie Dandies, a Mahoning Valley based Dixieland Band, is preserving a musical tradition.
Infocus: The Dixie Dandies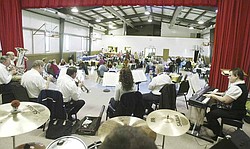 Gallery
Dixie Dandies
Summer schedule
Here's where you can listen to the Dixie Dandies. For more information, contact band leader Joe Commarata at 330-539-1453.
June 23: Boardman Park, 7 to 8:30 p.m.
July 20: Eastwood Mall, Niles, 7 to 8:30 p.m.
July 31: Tod Park, Girard, 7 to 8:30 p.m.
Sept. 25: Fowler Historical Society, state Routes 193 and 305, 1 to 3 p.m.
Source: Joe Commarata
STORY & PHOTOS
GIRARD
"Hello Dolly," "Basin St. Blues" and "Down By The Riverside" are songs that harken back to a time when jazz was getting its start in New Orleans and a uniquely American style of music came about.
A group of Mahoning Valley musicians is working hard to preserve that tradition while having some fun in the process.
The Dixie Dandies are an eclectic mix of musicians who play Dixieland music. They formed about 10 years ago as an offshoot of the Girard Community Band.
Joe Commarata, a retired music educator from Girard, is their leader and plays trumpet with the Dandies. Other musicians in the group include retirees, Youngstown State University students and people for whom music is an avocation.
"They play it because they love it," Commarata says of the Dixie Dandies. The band performs at concerts in the park during the summer months and has played engagements at churches, nursing homes and schools throughout the Valley.
Dixieland music features trumpet as the lead instrument with a backup of trombone, tuba, saxophone, clarinet, piano and drums.
The music ranges from up-tempo toe-tappers to slow, melancholy blues numbers.
"Everybody should be exposed to some Dixieland, its just good foot-stomping music, and we have a great time playing it," Commarata said. A quick survey at a recent Dixie Dandies concert showed most toes in the audience were tapping along with the music.
Along with playing Dixieland music and entertaining audiences, preserving the tradition of Dixieland music is important to the Dixie Dandies. "Everybody enjoys it, and it's part of the American tradition," Commarata said.