Exhibit features motorcycles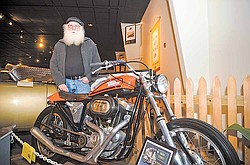 The Vindicator (Youngstown)

Photo
Dennis Copley of Mogadore stands by his 1972 Harley Davidson XR 100 Special, which he loaned the National Packard Musem for its 11th annual antique motorcycle exhibit, "Motorcycles on Main Street."
IF YOU GO:
Admission is $8 for adults, $5 for seniors and $5 for children ages 7-12.
Parking is free.
The museum is open Tuesday through Saturday from noon to 5 p.m. and 1 p.m. to 5 p.m. on Sunday.
The Motorcycles on Main Street Exhibit is going on through May 29.
The National Packard Museum is at 1899 Mahoning Ave. NW in Warren.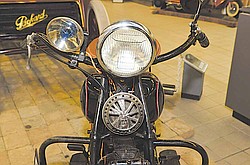 The Vindicator (Youngstown)

Photo
A four cylinder 1934 Indian Model 434 is among 30 motorcycles on display through the end of May at the The 11th annual antique motorcycle exhibit, "Motorcycles on Main Street," at the National Packard Museum in Warren.
WARREN
Growing up in Cortland, Bruce Williams rode his first homemade motorcycle through the woods.
"I wasn't allowed in the streets then," said Williams, who was 11 at the time.
He bought the bicycle from a kid down the street for $10. It was powered by a lawn-mower motor.
"I'm definitely a motorcycle guy," said Williams, now 62.
His lifelong love earned him his role as curator for the motorcycle exhibit at the National Packard Museum at 1899 Mahoning Ave. NW in Warren.
Williams' 1953 Victoria Vicky model F38M from Nuremberg, Germany, and 29 other bikes are on display for the "Motorcycles on Main Street Exhibit" at the museum through May 29.
The bikes mostly are on loan from individuals in Ohio with the exception of one from a collector in Florida. They date from 1908 to 1974.
The 1908 Crouch on display is one of only four left in existence. It sits in the main gallery alongside Harley Davidsons, Hondas and numerous bikes from overseas.
Caf racers are smaller bikes Europeans used to race one another from one caf to the next.
"I think we call it bar hopping," Williams said. "Whoever beat everyone to the caf got free beer or coffee."
Among the rarest of bikes on display are those from the era shortly after World War II. These include the 1945 Harley-Davidson made at a time when materials such as rubber were scarce.
Williams said the Harley-Davidson model of that year would have been made into the 1950s with saddle bags and big seats to qualify it as a tour bike. It had the biggest motor at that time.
"There were 18- and 19-year-old kids depressed in the service," Williams said. "The first thing they wanted to do was get on a bike and get the hell out of town."
The 1967 Harley-Davidson model is one New Castle police used for crowd patrol, parades and meter maids, Williams said.
The red 1923 Indian Big Chief motorcycle has a side car with a door and a second seat behind the driver for a total of three passengers. Williams said bikes were cheaper than cars at the time, and many bought them even though they presented a problem in bad weather.
Features such as headlights and horns weren't required decades ago, and so many bikes on display don't have them. Early cars used tanks of a chemical called acetylene to fuel headlights. Tanks were turned on, and the streams of gas contained in a headlight were lit with a match.
Many of the bikes on display are rusty and have original paint jobs and features unlike many of the antique cars that have been improved to look as pristine as they did when they first owned the road. Williams said keeping a bike in its condition makes it more valuable.
"You can restore it 1,000 times," Williams said. "It's only original once."
Jim Tereba of Warren came to the exhibit a few times because he was interested in the Antique Motorcycle Club of America with a Lake Erie chapter.
"I like how they look and the engineering and the freedom," Tereba said of motorcycles.