Youths show up for Day of Caring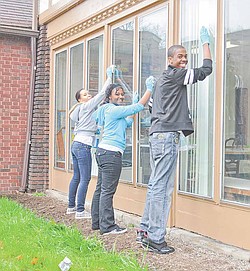 Special to the Vindicator

Photo
Youngstown Connection members, from left, Alexis Shellow of Youngstown, Arielle Green of Austintown and Leon Smith of Liberty clean the windows of the Burdman Group as part of United Way of Youngstown and the Mahoning Valley's 10th annual Youth Day of Caring on Saturday.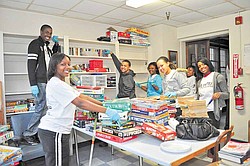 Special to the Vindicator

Photo
Youngstown Connection members cleaned and organized the activity room at the Burdman Group on Broadway Avenue. More than 100 area young people participated in Saturday's Youth Day of Caring in Youngstown.
By Elise Mckeown Skolnick
YOUNGSTOWN
More than 100 area young people crowded into the downtown YMCA. They fortified themselves with fruit and cereal, collected "Live United" T-shirts and then scattered to various nonprofit organizations.
The eighth- to 12th-graders were taking part in United Way of Youngstown and the Mahoning Valley's 10th annual Youth Day of Caring on Saturday.
"We really want to try to get younger people involved with us," said Tara Mady, United Way's director of marketing and communications.
Participating gives students an understanding of what volunteering is, and they learn about the organizations they help, Mady said.
"They're going to learn what that organization does in the community," she said. "What services they provide, how they help people in the community and then, ultimately, how their work [Saturday] is helping them."
Many of the student volunteers didn't know what they'd be doing when they arrived for the day of helping.
Joey Corradi, 16, of Austintown, said that was OK with him.
"I like to help out with the community, because it's always a nice thing to do," he said.
As a member of the Youngstown Connection, Corradi helped paint and wash windows and walls for the Burdman Group on Broadway Avenue.
Corradi said the day helps him as well as area organizations. He said he learned more about the community and about helping.
The organizations "get help with whatever they need help with, and it might also give them a sense that people care about them," he said.
The Youngstown Connection has helped with Youth Day of Caring for many years, said Carol Baird, its director.
"We do a lot of community service all year long," she said. "That's part of their training — giving back to this community."
Peer leaders — eighth-grade students who mentor younger students — from Stambaugh Charter Academy volunteered at OH WOW! The Roger & Gloria Jones Children's Center for Science and Technology. The five students swept floors, wiped down displays and readied exhibits for the museum's opening.
"It's awesome to have the volunteers come in and be able to help us get everything set up," said Kelly Bucci, education manager for the museum.
The museum is scheduled to open May 12, and though a lot of work is complete, construction dust has settled on the displays.
The students from Stambaugh Charter were happy to clean and play a part in its opening.
"I'm here to help the community, and I want to devote my free time to help fix up this kids' science museum," said Ty'Ran Grier, 15, of Youngstown.
He looks forward to seeing the museum once it's complete.
"It'll make me feel proud of myself that I really dedicated the time and effort to help do this," he said.
Though he never cared for volunteering in the past, Grier said he plans to do more in the future, now that he's experienced how much fun it can be and realizes that it does serve a purpose.
The day offered fun, education and networking experiences, said D.C. Gilchrist, family/student liaison for Stambaugh Charter.
"It's an opportunity for them to see a different side of Youngstown. Most of our children are at-risk," he added. "This is a nice day for them to kind of broaden their horizons and see that there are some positive things going on in Youngstown."