Williams drops Leyva in Round 1
Dannie Williams spar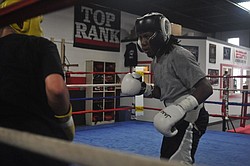 Gallery
By Joe Scalzo
Lightweight boxer Dannie Williams stuck to his game plan Friday night, which is why the game didn't last very long.
Fighting for the vacant WBC Intercontinental title in his hometown of St. Louis, Williams defeated Manuel Leyva in the first round with what his trainer, Jack Loew, called "one of the most vicious right hands I've seen in awhile.
"He was out for a good five minutes," Loew said of Leyva. "When he got up on his stool, he looked at [referee] Steve Smoger and was like, 'What made you stop it?'
"He had no clue why the fight was over."
Leyva (18-2) was coming off a controversial split decision loss to Joel Casamayor in Las Vegas and was expected to present a good challenge for the emerging Williams (17-1, 14 KOs).
Williams entered the fight intending to work the body, hoping Leyva would eventually drop his hands. Leyva (18-2) initially tried to engage Williams in a "firefight," Loew said, but Williams wouldn't bite, eventually dropping Leyva with the first of two devastating overhand rights.
Leyva only got up from the first one.
The win guarantees Williams a spot in the top 10, although Loew said he expects the WBC to rank him as high as sixth or seventh. Loew said Williams next will fight on June 25 on a local card that he will promote, possibly at the Covelli Centre.
"The ratings chairman was there and he was extremely impressed by him," said Loew, who also trains Kelly Pavlik at his Southside Boxing Club. "That was a real fight for Dannie and he had never been on that stage. He handled everything great.
"This elevates him to the next level."