'Just like the old days' inside Pavlik's camp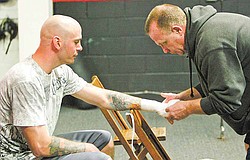 The Vindicator (Youngstown)

Photo
Boxing trainer Jack Loew wraps the hand of Youngstown's Kelly Pavlik before a recent sparring match with Romero Johnson at the Southside Boxing Club. In the recent weeks, Pavlik (36-2, 32 KOs) has been getting ready for his comeback bout against Alfonso Lopez (21-0, 16 KOs), a 10-round, 171-pound undercard bout schedule for May 7 at the MGM Grand in Las Vegas.
Pavlik sparring session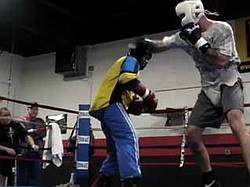 Video
BOXING
Kelly Pavlik vs.
Alfonso Lopez
When: May 7
Where: MGM Grand, Las Vegas
TV: Showtime, PPV
Tickets: Call Ticketmaster, 800-745-3000
His body (and his wallet) are thicker but his approach and expectations are the same.
By Joe Scalzo
YOUNGSTOWN
It's mid-afternoon in early April and Kelly Pavlik is sitting on a bench inside the Southside Boxing Club getting his hands wrapped by his trainer, Jack Loew. Pavlik is deep in a discussion about Cleveland mobster Danny Greene, who was featured in a recent movie called "Kill the Irishman."
Pavlik's father, Mike Sr., is also there, as is Southside trainer John Hutter and publicist John D'Altorio. Team Pavlik member Mike Cox will also stop by. They're part of the same group that's been around Pavlik for years, which is no accident. Pavlik's Sicilian roots run deep.
The discussion shifts to John Gatti, then to the Gambino crime family, then to Youngstown tune-ups (the car bombs that this city's Mafia members made famous), then to the old Southside Boxing Club, where Pavlik trained for most of his boxing career and which now sits vacant near the corner of Erie and Lucius.
"The cockroaches don't even want to go back in there," Pavlik said.
The discussion is filled with jokes and profanity and arguments and the only thing that separates it from any other day is when one of them will periodically stop, look at the reporter and say, "That's off the record."
In short, it's just as it's always been. And not just out of the ring.
His hands wrapped, Pavlik climbs into the ring for a four-round sparring session. When the third round is done, sparring partner Romero Johnson walks to the corner, takes a knee, spots his spit bucket and makes it very clear there won't be a fourth round.
"Ah, it's just like the old days," D'Altorio says, smiling.
It's been 31/2 years since Kelly Pavlik stood atop the boxing world — and the sagging body of newly dethroned middleweight champion Jermain Taylor — and, over that stretch, he's experienced everything a pro athlete (or a Shakespearean character) can experience.
Through it all, little about Pavlik has changed. The gym's a little nicer, his body is a little thicker (and his wallet is a lot thicker).
But the entourage is the same. The approach is the same. The expectations are the same.
"We're training like we're fighting a world class contender because, to us, this fight means everything," Loew says. "We've got to win this fight and win it impressively."
---
At this time four years ago, Pavlik was an underdog slugger trying to prove the critics wrong.
He still is.
Back then, he was preparing to fight Edison Miranda, who was supposed to quickly dismiss Pavlik en route to a middleweight title bout with Taylor. Pavlik instead knocked out Miranda, then knocked out Taylor and, briefly, got to boxing heights that only the Manny Pacquiaos of the world know about.
Now Pavlik (36-2, 32 KOs) is preparing for his comeback bout against Alfonso Lopez (21-0, 16 KOs). It's a 10-round, 171-pound undercard bout and if all goes as planned, Pavlik will dismiss him in one of the middle rounds and immediately start fielding big-money offers.
See, that's the thing. Over the last 31/2 years, through injuries and canceled fights, through wins over lesser-known fighters and losses to famous ones, through two stints in rehab and a year-long layoff, Pavlik has never stopped believing one thing: when healthy, he can beat anyone.
"A lot of people think I'm done," Pavlik said. "That's kind of confusing to me, but the only thing I can do is go out and silence the critics by fighting."
---
Pavlik sees himself as the victim of a double standard. Fighters such as Pacquiao (three losses), Shane Mosley (six losses), Miguel Cotto (two losses) or Oscar De La Hoya (six losses) can lose fights and stay atop the rankings. But Pavlik loses decisions to two of the best fighters in the world, he said, Bernard Hopkins and Sergio Martinez, "and I get written off."
"These guys lose and there isn't much said about them," said Pavlik. "I lose two fights and get stepped on big time.
"I think for me to get that respect, I'm going to have to come back and knock the guy [Lopez] out."
By all accounts, Pavlik is in top shape. Unlike the past few fights, Loew has opened up training camp to the media — "That's how confident I am in his condition and how this camp is going," Loew said — and if anyone in Team Pavlik has lost confidence, it doesn't show.
Pavlik maintains it was weight that beat him last April, not Martinez. He spent so much energy trying to make the 160-pound limit — "They should have put us in jail for what we did to get that weight off," Pavlik Sr. said — he had nothing left on fight night.
"If I hadn't hit the wall after the eighth round, I would have won that fight," he said.
At 168 — or, in this case 171 — Pavlik loses some of the size and strength advantage he had at middleweight, but he thinks the energy tradeoff is worth it. At 29, he's no longer a young fighter, but, as Loew said, "he's never really taken a beating."
"I just think the time off and what he went through the last four or five months has done a world of good for him," Loew said.
Pavlik knows what's at stake next month. A loss would crush his career, particularly since he'll be fighting on boxing's biggest stage — the co-main event of the Pacquiao-Mosley fight. A win would help, but it won't have the same impact as the win over Miranda.
He'll need to win again. And again. And again.
"A lot of people are real anxious to see him back," Loew said. "They're not saying anything real bad about our opponent. A lot of of people are just taking that wait-and-see approach.
"And hey, we put ourselves in this position. We backed out of one or two fights because of injuries and other issues, so they want to see if we can come back. People want to see us step and up to the plate and prove it. I think we will."