Canfield defense too much for Fitch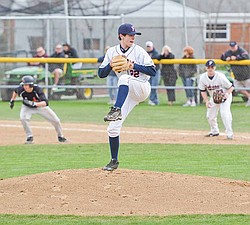 Photo
RAMI DAUD | THE VINDICATOR .Fitch's Scott Pierce pitches while Candield's Derek Turocy prepares to steal second base. .
By Jon moffett
jmoffett@vindy.com
Austintown
Depending on which side of home plate you were sitting on, Friday's game between Canfield and Austintown Fitch was either really disappointing or really opportunistic.
Defense was the main focus of the game. One side made several key defensive plays while the other, well, didn't.
The tone was set in the game's first inning when the Cardinals sent 10 hitters to the plate. The first five reached safely due to errors. Five of those runners came around to score, giving Canfield the start it needed in the 9-0 victory.
A strong, steady wind swirled around Richard L. Coppola Field, which created problems on fly balls. Three of the seven errors by the Falcons (2-3) were on routine fly balls that got caught up in the gusts and bounced off the outfielders' gloves.
Canfield (5-0) did the opposite. Every time a defensive play was needed, the Cardinals answered the call. Coach Matt Koenig said that made all the difference.
"One of the things we try to stress is when the other team makes a mistake, whether it is an error or a baserunning mistake, we want to capitalize on that," he said. "And I think we did a pretty good job of that today."
Fitch's Wally Ford had a different opinion of the miscues.
"We had a big win [Thursday] down at Perry. It was a night game and we got back at like midnight. But, you've got to forget about losses and wins and be ready to play," he said. "Obviously, we weren't mentally ready to play, and that showed physically. We couldn't catch a fly ball and we couldn't make a throw."
The Cardinals, however, couldn't miss. They had three double plays and seven more groundouts behind junior pitcher Michael Wittmann.
Wittman said it makes his job a lot easier to watch his defense make all the plays.
"It gives me tons of confidence out on the hill knowing that I can make a little bit of a mistake and I can get away with it because the defense is playing great behind me," he said.
Wittmann had just one strikeout to go along with a pair of walks. But it was a different stat that made his outing so effective.
"I just got into a groove today. The fastball was low, and the slider had a lot of movement," he said. "And I don't think I threw a ball above the waist today. That was definitely a key, keeping it out of the air. I don't think I had a ball hit into the air."
He didn't.
The only hit Wittmann allowed was a roller that squeaked by the first and second basemen. The strikeout ended that inning to quell any sort of threat. Both baserunners who earned free passes via the walk were erased by double plays.
"One of the things that we try to preach is for our pitchers to keep throwing strikes and keep getting ground balls and good things will happen," Koenig said. "And that was the story today. And on a day like today, the wind plays havoc with the fly ball.
"For our pitchers to get so many groundball outs really helped us out," he added.
Wittmann credited his infield teammates, many of which made impressive plays. Shortstop Joe Tuchek made several athletic throws, and first baseman Josh Midgley replaced his right-handed glove with a shovel on several occasions.
Koenig said his team may be undefeated, but they are far from perfect. He mentioned every game is a chance to improve on something.
"We still have some baserunning issues we have to work on, and offensively, we've got to be a little bit more aggressive," he said. "We were lucky to score nine runs. If they make those plays in the first inning, that's a 0-0 game probably through five innings. And that obviously changes the tone. We're always looking to improve."