Springer talks it up in Boardman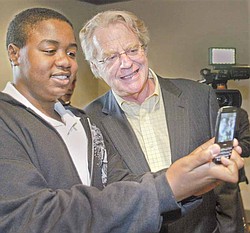 Photo
Oscar Aslam, 14, of Austintown snaps a photo of himself with TV talk-show host and former Cincinnati Mayor Jerry Springer during the Mahoning County Dem-ocratic Party Hall of Fame dinner at Mr. Anthony's in Boardman on Thursday. Springer was the guest speaker.
Jerry Springer In Youngstown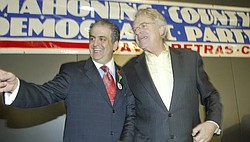 Video
Talk show host and political figure Jerry Springer was the featured speaker at the Mhoning County Democrat Party Hall of Fame dinner.
TV show host says country is 'in the midst of another civil war ... a class war'
BOARDMAN
Jerry Springer, the host of one of TV's most outrageous talk shows and a former Ohio gubernatorial candidate, says the United States is involved in a civil war.
"One-hundred-and-fifty years ago this week was the beginning of the Civil War," the former Cincinnati mayor said Thursday during his speech at the Mahoning County Democratic Party's Hall of Fame dinner at Mr. Anthony's. "I'm here to say I profoundly believe we're in the midst of another civil war; certainly less violent, obviously, more polite, but just as insidious. The civil war we are involved in is, truthfully, a class war."
Springer said Republicans in Washington, D.C., want to cut programs for seniors, the poor and the middle class to continue to give tax breaks to the richest 2 percent, including him.
"This war against the middle class — it is so sinister," Springer said.
Springer, a Democrat, also pointed to Ohio as a place where Republicans have worked to take away the rights of the middle class. He specifically mentioned last month's passage of Senate Bill 5, the new law that reduces the collective-bargaining rights of public employees.
"They're trying to screw you," he said.
In an interview with The Vindicator before the event, Springer said Ohio remains "a critical state" in next year's presidential election, and that the effort by organized labor, which traditionally backs Democrats, to repeal the new collective-bargaining law should help that political party.
When asked about Gov. John Kasich, a Republican who backed SB 5, Springer said, "We are now paying the price of having elected him."
Before Springer spoke, county Democratic Chairman David Betras joked that "we won't tolerate any chair-throwing or fist-fighting and everyone has to keep their clothes on."
Springer has hosted his own talk show for 20 years. The show is known for its outrageous guests who talk about their dysfunctional lives. Often, guests end up throwing punches or chairs.
Springer has visited the Mahoning Valley often over the years, including hosting the first hall of fame dinner in 2003 and the party's 2007 Spring Fling. Springer lost the 1982 primary for governor. He considered running for governor in 2002 and 2006.
Those inducted Thursday into the county Democratic Party's hall of fame were:
Dr. Richard J. Billak, chief executive officer of Community Corrections Association in Youngstown.
Youngstown State University board trustee Harry Meshel, the former Ohio Democratic Party chairman and Ohio Senate leader.
The Rev. Lonnie Simon Sr., retired pastor of Youngstown's New Bethel Baptist Church and a civil rights activist.
Mahoning County Domestic Relations Court Judge Beth A. Smith, the first female judge in the county.