North's new principal is a familiar face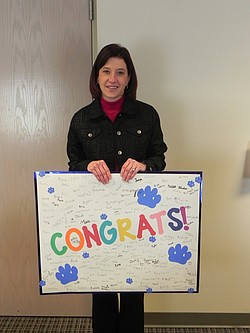 Photo
Neighbors | Sarah Foor .On her first day as principal, Tracy Kaschak received a warm congratulations from North Elementary students and staff.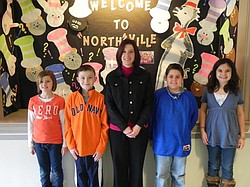 Photo
Although she had to leave her fourth-grade classroom to start her post as principal, Kaschak (center) is still close with her fourth-graders and excited to see them move onto middle school. Celebrating with their new principal were, Courtney Thompson (left), Gregory Romito, Tallon Price, and Sophia Gawdyda.
By SARAH FOOR
To the students at North Elementary, Tracy Kaschak is a very familiar face. She's taught kindergarten at the school since 1995 and most recently, taught fourth grade.
However, in her new job as North's principal, Kaschak will become a familiar face to many more residents of Poland.
Although her post, which began on March 1, may be new, Kaschak has a long history in Poland. She grew up and was schooled in the community, and attended YSU to gain her bachelor's, master's and principal license. She lives in Poland with her husband, Jeff, and she takes her two kids, North second-grader Hayden and fourth-grader Addison, to school with her each morning.
Kaschak hopes as principal, she can nurture the already encouraging aspects of the school.
"North has a wonderful, warm environment, and I will continue that. However, I have a particular passion for promoting kindness among the students."
To achieve this, she began an Acts of Random Kindness project at the school. On Monday, she assigns the act and discusses the progress on Friday's morning announcements. The tasks are as simple as doing laundry without being asked.
"I asked the students to make a card for any special someone two weeks ago," Kaschak reflected on March 28. "One student made a card for one of our bus drivers thanking her for what she does. It's a really encouraging example," Kaschak shared.
As she finishes up the rest of her first year as principal, Kaschak said she is particularly proud of the fourth-graders she taught for most of the 2010-2011 school year.
"I'm looking forward to helping out at fourth-grade recognition dinner. I was their teacher a very short time ago, but I'm honored to be their principal and leader as they move on. For every student here at North, I'm honored to lead the school I love so much," Kaschak said.
More like this from vindy.com