Valley schools carry on learning journeys to DC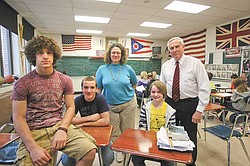 Photo
Students and chaperons at Canfield Village Middle School recently returned from the district's annual trip to Washington, D.C. Visiting the nation's capital this year were, from left, eighth-graders Nick Annichenni, Carson Kesner and Emma Kilbreath. Teachers Dianna Liggitt and Ken Reel are regular attendees on the trip.
By Kristine Gill
CANFIELD
The most obvious difference between Carson Kesner's family vacation to Washington, D.C., and the trip he took with fellow eighth-graders at Canfield Village Middle School last month, may have been the attire.
"We didn't have a dress code," the 14-year-old said. "And we saw less things. I was younger then."
Middle-school students are required to wear khaki pants and shirts with a collar during the three-day, two-night trip. In the past, they've worn ties and dresses on the night they attend a performance at Ford's Theater.
"Generally when you are dressed better, you behave better," said eighth-grade history and science teacher Dianna Liggitt. "And it really helps us as chaperons keep track of our groups."
Liggitt has accompanied students on the trip for the past 19 years. She's only missed two of the excursions in that time. Fellow history teacher Ken Reel has been going since the first buses left the school in 1978. In that time, he's missed only three trips and said it doesn't get old.
"To see Lincoln? Are you kidding me? Come on now," Reel said.
His students study President Abraham Lincoln's assassination for six days before the trip.
Reel and Liggitt say the biggest changes to the trip over 33 years is the size of their tour groups and security in the nation's capital after Sept. 11, 2001.
About 200 middle-school eighth-graders attended this year's trip and another 30 stayed behind. Funding the trip and taking time off school and sports are among reasons students do not go.
"The size of our group has tremendously increased as the size of our school increased," Liggitt said.
Eighth-graders in Poland schools were on their annual trip this week. Superintendent Robert Zorn said this year's trip cost about $500 per student and that 40 students chose not to attend this year because of the cost.
"We probably have double the kids choosing not to go. If that trend continues, it's something we may have to look at," Zorn said.
The district has had the trip since 1976 and took about 200 students this year.
"It's a very patriotic trip," Zorn said. "For many kids, it's probably the only time they get to go through their nation's capital buildings."
Austintown Fitch High School students take an annual, voluntary and self-funded trip to Washington in conjunction with their social-studies courses. The trip is 24 hours and Superintendent Vince Colaluca said the school usually takes one busload of students.
The trip costs $335 per student this year for Canfield eighth-graders. That money goes toward transportation, attractions and hotel stays. Parents and students pay for the trip themselves.
When Reel first chaperoned in 1978, the group required three charter buses. Past groups have required as many as seven buses. This year's group took five with two teacher chaperons per bus for a student-to-teacher ratio of 20-to-1.
"We do head counts all the time," Liggitt said. "I'll be reincarnated as a sheep dog."
Security has made visiting some monuments difficult. Reel said his students used to be able to visit the FBI building, the White House and the national archives.
"Now we have to take pictures instead of going in," he said.
In the wake of Sept. 11, the trip was confined to Ohio and students instead traveled to Cincinnati for a dinner cruise, local zoos and aquariums or the Ohio Statehouse in Columbus.
"The Washington, D.C., trip is far superior," Reel said.
Four Canfield students took part in the wreath-laying ceremony at the Tomb of the Unknown Soldier this trip. They were told to walk up to the tomb to lay the wreath while trained soldiers performed a measured and practiced step formation as they stood guard.
"It's kind of interesting how perfect they are," eighth-grader Nick Annichenni said.
Eighth-grader Emma Kilbreath said the best part of the trip was visiting museums. The group saw the American History Museum, the Air and Space Museum, the Capitol, Embassy Row, Washington National Cathedral, the Natural History Museum, the Ronald Reagan Building and the Abraham Lincoln, Vietnam War, Korean War, WWII, Franklin D. Roosevelt and Thomas Jefferson memorials.
In his time as a chaperon, Reel has seen warm weather and snow. Canfield used to take the trip in May or June, but he said the crowds of tourists at the time were unbearable. Aside from some rain this trip, Reel said there were no major hiccups though he's had some on past trips.
"Once we got stuck in the bottom of Congress," he said. "The buses had to come back for us."