Tony! Toni! Tone!: Disciples of soul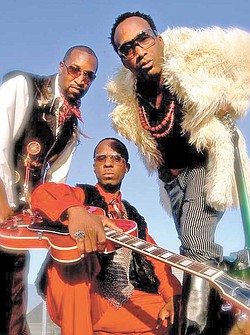 Photo
If you go
Who: Tony! Toni! Toné! with Levert II and Stefano Nu*Soul
When: 8 p.m. Friday
Where: Powers Auditorium, 260 W. Federal St., Youngstown
Tickets: $25 and $35; call 330-744-0264
By John Benson
When talking to Tony! Toni! Toné! co-founder D'wayne Wiggins, you can't help but notice a certain element of cool coming from the guitarist-producer. Sure, the 48-year-old Oakland, Calif., native has plenty of platinum albums to his credit, but his personality is hubris-free. Instead, he just talks equal parts jazz-cat and weathered street musician looking for his next gig, which just so happens to be in Youngstown's Powers Auditorium on Friday.
Though Wiggins said he has no recollection of playing in Mahoning County, he's looking forward to seeing opening act Levert II, featuring original Levert member Marc Gordon and new singer Roosevelt "Blaq Rose" Griffin Jr., a 1990 South High School graduate.
"I had some great times with Gerald [Levert]," said Wiggins, calling from the San Francisco area. "That boy was so gifted. We performed onstage for many years. And of course growing up, I remember going to shows and seeing The O'Jays with his father, Eddie Levert. So I go way back with the Levert family."
Wiggins said Tony! Toni! Toné!'s musical foundation came from watching acts such as The O'Jays and Zapp, as well as Sly Stone and even Carlos Santana. As for the group's unique moniker, well, that's where the cool element comes into play.
"Originally, I came up with the name," Wiggins said. "It was basically how people come up with nicknames for things they do, and Tony! Toni! Toné! was a nickname for the fly way we used to dress. We always went to vintage clothing stores and got tuxedos and padded the shoulders. So we called our flavor Tony! Toni! Toné!. Whenever you thought you were fly, you were Tony! Toni! Toné!. As a joke, if we saw somebody who thought they were on point, we'd be like, 'He thinks he's Tony! Toni! Toné!.' At that point, the band didn't have a name, and we were performing at a wedding, and somebody asked our name. So as a joke I said Tony! Toni! Toné!."
Though the name may have been for a laugh, the members of TTT were serious about combining '70s funk and soul with a modern R&B sensibility. The group's 1988 gold debut, "Who?," spawned the hit "Little Walter;" however, it was the follow-up effort, "The Revival," which put Tony! Toni! Toné! on the map. The platinum album included four No. 1 hits in "Whatever You Want," "The Blues," "It Never Rains [In Southern California]" and "Feels Good." The latter track featured a DJ, which in turn opened up the band to the world of hip-hop.
After the release of the Grammy Awards-nominated 1993 effort "Sons Of Soul," which includes popular tracks "Anniversary," ""If I Had No Loot," "[Lay Your Head On My] Pillow" and "Slow Wine," Tony! Toni! Toné! singer and Wiggins brother Raphael Saadiq left the group. After a brief hiatus, the band continued on with 1997's "House of Music" and hasn't looked back.
Today, the members of Tony! Toni! Toné view the outfit as something more than a heritage act. Sure, Wiggins and company are living the group's past, but in their mind there's a sense of duty at play.
"Our music is transcendent," Wiggins said. "Right now, I guess you'd call us the martyrs of soul out here. We're keeping it 100 percent blues and soul for real. No matter what's been said over the years, music prevails, and we've been on it."