Extremely busy Sulzener keeps his focus

Photo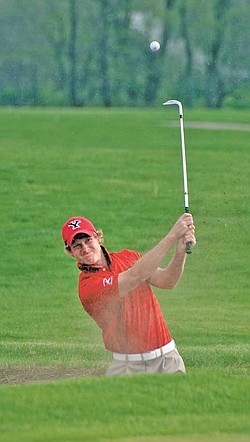 Special to the Vindicator

Photo
Youngstown State senior golfer and nursing major Spenser Sulzener hits his ball out of a sand trap.
By Jon Moffett
YOUNGSTOWN
There are many people who use the golf course as an escape from the stresses of life.
Spenser Sulzener is not one of those people.
Sulzener, the lone senior on the Youngstown State men's golf team, doesn't have time to relax on the course. Heck, he doesn't really have much time to relax at all. In addition to golf, the New Philadelphia native is a nursing student.
So to say his time is at a premium would kind of be an understatement. He even admitted he hadn't seen his roommates in a few days.
But such is life for Sulzener. Much like on the course, his eyes are always forward, his head is down and his mind is focused.
"I guess coming into college I had these great expectations to be great at everything," Sulzener said. "But sometimes I feel like I just go through the motions and I can't be as great at everything as I want. It's hard to be the best golfer, the best student and the best friend all at the same time."
Humility is one of the things Sulzener does well. Just ask his coach, Tony Joy. In his 27th year with the program, Joy talked about Sulzener the way a proud father would.
"He's just one of those kids who is well liked on campus and has a lot of friends," Joy said. "And a lot of his friends come from all over. He comes from a real good family and when you see Spenser, he's kind of got blonde-reddish hair. He looks like your all-American boy."
Sulzener, who will be the Master of Ceremonies for the school's annual student-athlete scholar banquet, said he was surprised his coach had such nice things to say.
In fact, Sulzener is kind of surprised when anyone says something nice to him.
"I guess it's good to hear. I mean, you always like it when people compliment you," he said. "But I'm just trying to be myself. I'm not trying to put on a facade or whatever. I'm just being who I am."
So who exactly is he?
He picked up his first golf club at age 8. He decided he wanted to go into nursing his senior year of high school — prior to that he had wanted to be an architect or engineer. And he has a 3.8 grade point average. But it's not good enough.
"I work for what I get," Sulzener said. "In high school we had the weighted scale, so my GPA was like 4.2 or 4.3."
Sulzener is also an expert juggler.
OK. No he's not.
But he still does a pretty good job of balancing his time between his athletics, academics and some semblance of a social life. Like many students, the juggling act has been the hardest part of school.
"I'm not going to say it's undoable. As we speak, I'm copying notes and speaking to try and catch up from our last road trip," Sulzener said.
"It is hard work. I'm a diligent and I'm a hard worker. So it's difficult and it's manageable."