POWER DISPLAY Girard made the most of 6 hits in cruising past Campbell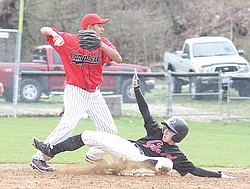 Special to the Vindicator

Photo
Girard baserunner Dominic Aurilio tries to break up a double play as Campbell infi elder Joel Cruz sets to throw during Monday's game in Girard.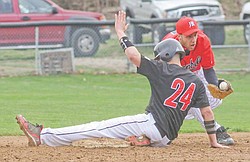 Special to the Vindicator

Photo
Girard baserunner A.J. Weibel takes third base as Campbell infielder Brandon Reyes fields the throw during the Indians' 12-1 win.
Girard 12
Campbell 1
Next: Girard at Liberty, today, 5 p.m.
Next: Struthers at Campbell, today, 5 p.m.
By Jim Flick
GIRARD
Scoring early and often on Monday, the Girard High baseball team blasted Campbell Memorial, 12-1, on just six hits.
"When you hit the ball hard, good things happen," Girard coach Jason Johnson said. "And we hit the ball [hard] all day."
Catcher Ryan Trimbur doubled to drive in three runs for the Indians, while second baseman Dan Graziano singled and drove in two runs.
Brandon Hunkus doubled to collect an RBI while Dante Delbene and Kyle Richey each drove in a run for the Indians (5-1).
"I'm proud of what we did today, but we have a long way to go," Johnson said. "We swung at some bad pitches."
Jim Melfi pitched all five innings to earn the win.
Red Devils (0-1) right fielder Brandon Hofus smacked a triple to deep center field in the fourth. He scored Campbell's run on a sacrifice by third baseman Joel Cruz.
"We have a young team," said Campbell Memorial coach Benjamin Santiago, noting that his lineup against Girard included six freshmen.
"We're going to have some growing pains, but I think we'll be fine."
Girard scored twice in the first inning without the benefit of a hit.
After Mat Pagano scored the game's first run, Trimbur dashed home on the front end of a double steal.
A.J. Devore held up Campbell defenders long enough for the run to score before he was tagged out to end the inning.
The Indians added four more runs in the second inning, with Hunkus hitting a double to help the Indians jump ahead, 6-0.
Trimbur's two-run double helped the Indians score five more runs in the third inning.
Johnson praised his team's "good defense" and Melfi's strong performance on the mound.
He called Trimbur "the leader of this team" as well as the Indians top hitter.
The Indians' coach also praised the play of Graziano, who singled to drive in two runs while batting ninth.
"When your number nine hitter gets a hit, that turns the lineup," Johnson said.
Campbell committed six errors while playing their first game of the season.