Panel voids seniority in teacher assignments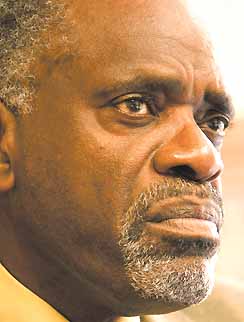 Photo
Youngstown City Schools Superintendent Connie Hathorn
Resolution gives Hathorn authority for reorganization plan
By Denise Dick
BOARDMAN
The Youngstown Academic Distress Commission has given the city schools superintendent the authority to assign teachers to schools regardless of seniority.
The commission members approved the resolution at a meeting Monday at the Mahoning County Educational Service Center.
When Superintendent Connie Hathorn unveiled a reorganization plan for the school district last month, he said that he wanted to assign teachers to the Chaney Science, Technology, Engineering and Math and visual and performing arts school, the eighth-and-ninth-grade academy and the alternative school based on interviews.
The teachers contract with the district though calls for assignments to be based on teacher seniority.
Debra Mettee, commission chairwoman, said the resolution restores rights and responsibilities that the district had negotiated away in prior collective- bargaining agreements. That includes seniority, class size and other issues.
Will Bagnola, president of the Youngstown Education Association, the union representing Youngstown teachers, said the statute that established the Academic Distress Commission gives the commission the right to take back management rights that have been bargained away over the years.
But he says the commission must amend the academic-recovery plan, detailing the management rights being taken back. That amended plan must be approved by the state superintendent, the union president said.
"Until they do that, it's our position that the contract remains in effect," Bagnola said.
Hathorn said that current plans call for interviews to be conducted and decisions on assignments to be made only at those three schools.
"If not enough people apply to fill in all of the positions, the superintendent can look at the skills" of all teachers and make assignments accordingly, Mettee said.
Commission members asked if Hathorn believes that he has enough teachers who will be interested in teaching at the alternative school and eighth-and-ninth-grade academy.
"I do," he said. "There are people who want to teach that grade level."
Hathorn's reorganization plan begins next fall.
Although the commission doesn't have to approve the plan, members endorsed it.
The schools "need something dramatically different, and this is dramatically different," said Kathleen Garcia, commission member.
Member James Hall agreed.
"Personally, I think it's a good plan," he said.
While Chaney will be a STEM and visual/performing arts school, East students will focus on business, education and law in addition to core curricula.
The district's three alternative programs — Twilight, Redirections and University Project Learning Center — will be consolidated into one program housed at the former Mary Haddow School of Oak Street Extension.
The three middle schools will be divided into the eighth-and-ninth-grade academy housed at P. Ross Berry Middle. Volney and Wilson Middle schools will become sixth-and-seventh-grade academies.
The elementary schools will remain kindergarten through fifth grade, but there will be rezoning at Martin Luther King, Harding and Williamson Elementary to more evenly distribute students.