Eye doctor sees those in need
The Vindicator (Youngstown)

Photo
Dr. Sergul Erzurum, left, of Eye Care Associates, talks with cataract patient Ronald Zingaro of Boardman before surgery. One day a year, Eye Care Associates surgeons provide free cataract surgery to people who don't have health insurance or other means of paying for the operation.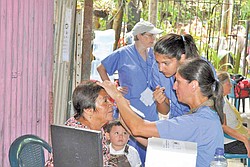 Special to the Vindicator

Photo
Dr. Sergul Erzurum, right, examines a patient during a MedWish International medical mission to El Salvador. Looking on at the doctor's right is her daughter, Aylin, 16.
PROFILE
Dr. Sergul Erzurum
Dr. Erzurum and her teenage daughters, Aylin and Sibel Sarac, spent a week in El Salvador last summer on a medical mission under the auspices of MedWish International.
Residence: Canfield
Husband: Dr. Erdal Sarac
Children: Daughters, Aylin and Sibel; son, Kamran Sarac.
Parents: Hal and Sevim Erzurum of Boardman. They immigrated from Turkey.
Siblings: Brothers, Dr. Serhat Erzurum in Turkey, Dr. Zafer Erzurum of Hudson; sisters, Dr. Serpil Erzurum of Cleveland, Sevil Erzurum of Boardman.
Occupation: Ophthalmologist, Eye Care Associates for 18 years.
Education: Opthalmology residency, Nothwestern University, 1993; medical school, Northeastern Ohio Universities College of Medicine, magna cum laude, 1988; Youngstown State University, bachelor of science in combined science, summa cum laude, 1984; Boardman High School, 1982.
Academic and Professional: Board certification, 1993, licensed to practice medicine in Ohio and Pennsylvania; chairwoman of the Department of Ophthalmology, Northside Medical Center; assistant professor of ophthalmology at NEOUCOM; associate and director of refractive services, Eye Care Associates.
Professional Societies: Fellow, American College of Surgeons, American Society of Cataract & Refractive Surgery, International Society of Refreactive Surgeons, and American Association of Pediatric Ophthalomology & Strabismus; American Medical Association; Mahoning County Medical Society; Alpha Omega Alpha.
Quote: "I'm very proud of my school [NEOUCOM]. I was in the eighth graduating class. If we didn't have NEOUCOM, we would have a shortage of doctors in the Mahoning Valley."
Source: Dr. Erzurum, The Vindicator
BOARDMAN
Eye Care Associates here has a long history of helping the working poor through its Mission Cataracts project.
Knowing how satisfying it is to help people, one of the organization's partners, Dr. Sergul Erzurum, expanded the mission for herself by traveling to El Salvador as part of a medical team under the auspices of MedWish International.
For more than a decade, the partners in Eye Care Associates has provided one day of free cataract eye surgery for people who don't have medical insurance or other means to pay for the surgery. Typically, 13 to 15 operations are done each year, and the surgeons rotate annually, said Dr. Erzurum, whose turn it was this year.
Cataract surgery involves removal of the eye's natural lens and replacing it with an artificial lens.
The other Eye Care Associates partners are Drs. Keith A. Wilson, president of the group; H.S. Wang; Lyn Yakubov; John P. Aey; and Robert Gerberry.
While one doctor does the surgeries, all the partners help with the examinations and other tasks, and Dr. Patricia Miller of Northside Medical Center volunteers her services as anesthesiologist, said Dr. Erzurum.
On March 8, Dr. Erzurum, of Canfield, did 13 surgeries as part of Mission Cataracts. They tend to be difficult cases because the operations often have been delayed because the patients could not afford the surgery. Her patients were mostly in their 40s and 50s, with only a couple in their 60s, she said.
But last year, because of her daughter, Aylin Sarac's, involvement in a service project at her school, Western Reserve Academy in Hudson, Dr. Erzurum found herself on a different kind of medical mission far from the comforts of home.
Aylin was packing sterile, packaged lens implants, which could not be used in the United States because the use date had expired, to be sent by MedWish to Third World countries. Aylin was invited to be part of a medical team being sent to El Salvador last summer under the auspices of MedWish.
"There was no way I was going to let her go alone, and MedWish said the team could use an ophthalmologist, so I went and so did my younger daughter, Sibel," said Dr. Erzurum.
Sibel Sarac, 14, an eighth-grader at Canfield Middle School at the time of the El Salvador mission, is a freshman at Western Reserve Academy. Aylin, 16, is a junior at the school.
Dr. Erzurum is married to Erdal Sarac, but kept her maiden name in her professional life.
El Salvador is not just a different country; it seemed like a different world to Dr. Erzurum and her daughters.
There was a potentially dangerous fever outbreak while they were there; examination rooms had dirt floors; and there were long work days. There were no cell phones, emails or music.
Nonetheless, "it was amazing, the experience of a lifetime," Dr. Erzurum said.
"El Salvador is gorgeous. The air is so clean. When we got home, the colors seemed so dull. It makes you realize what we don't have in Northeast Ohio, but it also makes you understand what we do have," she said.
The poverty can be extreme.
Team members stayed at a compound with nuns in San Salvador, the capital city, and were comfortable.
"It was very clean. We had twin beds and showers in each room. There was no air conditioning, but the night air was cool and we needed a blanket," Dr. Erzurum said.
On the other hand, on one occasion examinations were done in the village mayor's house, which had a dirt floor and chickens running through it. Other times she said they set up a table and a couple of chairs outside to see patients.
No surgery was performed. It was medical care such as screening for glaucoma, fitting glasses and treating infections.
Dr. Erzurum's daughters worked long, hard days helping their mother. "The girls never complained," she said.
Aylin had taken Spanish in school and was her mother's interpreter and helped with the examinations. Sibel dispensed medications and hunted through the 1,500 pairs of glasses they took with them to find the proper prescription.
The Erzurums were in El Salvador five days during the first week of August 2010, and saw patients for four days. One day was reserved for being a tourist.
During those four days in Central America, Dr. Erzurum said the team saw 1,600 patients.
The people dressed in their Sunday best to line up to see the doctors. They have socialized medicine, so health care is free, but most people in the rural areas don't have the $6 needed to take the bus to the city for care; and when they get there, sometimes the doctor won't see them.
"A lot of people go into medicine to help people, and need things like this to rejuvenate themselves. I think everybody got something good from the mission," she said.