With Boardman's growth, officials eye fees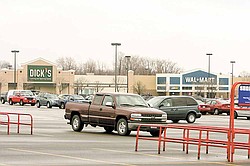 The Vindicator (Youngstown)

Photo
Retailers are expanding in Boardman. This year, Walmart will add 20,000 square feet to its building; Aldi will move into a new 17,000-square-foot building across from Walmart; and Dick's Sporting Goods is moving to a larger location in the township.
BOARDMAN
As retailers in the township continue to grow, officials are still researching impact fees to help pay for local services used by businesses.
In one block of South Avenue, shoppers will soon have a choice of three grocery stores, with another just a few miles south.
Walmart will add 20,000 square feet to enhance its food selection, bringing the building closer to Doral Drive, which turns into Tiffany Boulevard, said Zoning Inspector Anna Mamone.
The expansion should be completed in January 2012, according to zoning documents.
Walmart is next to Giant Eagle and across from the site of a new 17,000-square-foot Aldi grocery store at 6600 South Ave.
Aldi tentatively is slated to open in late summer, said Kevin McClure, director of real estate for Aldi, Inc.
"It's currently still under construction. We're moving along," McClure said. "... We wanted to build our brand- new prototype store, plus we have access to a traffic light."
Shoppers will be able to turn onto Cedar Way, which has a traffic light at its intersection with South Avenue, and then turn into the Aldi parking lot, behind KFC.
Rulli Brothers, which opened in March 2009, is less than two miles south from the Giant Eagle/Aldi/Walmart block.
That activity is only part of new development in the township.
"We've had an upward trend in inquiries" of commercially zoned properties and building permits, Mamone said.
Bill Kutlick, president of Kutlick Realty LLC which brokered the Aldi deal and several others, said "the real issue is the amount of square footage being developed in the primary retail corridor."
Kutlick confirmed that his company does have a lease signed with Dick's Sporting Goods but declined to release the store's new location. He did say it was going from a "B" location to an "A" location — which he defined as U.S. Route 224 between Interstate 680 and West Boulevard. Dick's currently is next to Walmart.
"As those primary markets fill up, it's a ripple effect that goes into the 'B' and 'C' markets" such as South Avenue and Western Reserve Roads, he said.
Although township Administrator Jason Loree said he is pleased with the business growth, he said the trustees are still exploring impact and service fees.
In some cases, the "development is impacting township services to the point where the property taxes just do not keep pace with the cost of serving the business entity," he said. "It really comes down to [services used] before development and after development."
Impact fees have been successful in southern and central Ohio because those areas implemented the fees as development was beginning, Loree added.
"What I'm finding challenging is finding a community that has developed like Boardman that wants to put [an impact fee] on after development has occurred," he said.
An impact fee would have to apply to every business — but the township has discussed the topic before with Walmart specifically — and the township would have to determine a baseline fee, requiring data and legal counsel.
Another option, Loree said, is the relatively new concept of a report or service fee.
"If you are an outside resident and you get into an accident or require some services provided by the township ... then the township would then charge that person a service fee," he said.
If, for example, a business calls with a shoplifting report, it would not incur a fee, Loree said.
However, if the shoplifter was from outside the township that fee could possibly be given to the individual, he added.
"It's about finding the legalities of charging that person the service fee. So it wouldn't be the business [paying], it would be the person that caused the problem," Loree said.
He said that the township administration wants to work with businesses and residents.
"When you're backed into a corner financially, you start wanting to explore as many different options as possible for revenue generating that does not impact the community as a levy would. But that's not saying a levy's still not on the table," Loree said.