Brothers come to U.S. from Puerto Rico for Fitch's baseball program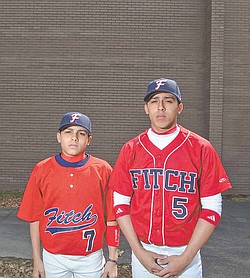 The Vindicator (Youngstown)

Photo
Brothers Alex, left, and Kevin Sierra of Austintown moved from Puerto Rico to the United States to play baseball. Kevin, 16, made the varsity team at Fitch High School, and Alex, 14, made the freshman team.
By Kristine Gill
AUSTINTOWN
He may not be a native English speaker, but Kevin Sierra is fluent in baseball.
In Puerto Rico, students at the International Baseball Academy High School use "foul," "out," and "safe" in preparation for playing the game in America.
"We use the words," Kevin said. "English you have to use everywhere."
And when his team needs to communicate silently, Kevin understands perfectly.
"If I want to steal base the coaches make a signal," the 16-year-old said.
The Fitch High School sophomore and his younger brother came from Puerto Rico this year just to play the sport.
Kevin made the cut for the varsity team as a center fielder, and Alex plays for the freshman team as a shortstop and second baseman.
Each meets with a tutor twice a week to improve his English, which Kevin said helps with his game.
"We need to work in a team so if you don't talk in the games we won't win. You have to talk happy always," Kevin said.
Wally Ford, Fitch varsity coach, said, "We've been able to communicate baseball-wise really well."
Ford met the Sierras at the beginning of the school year when their aunt and grandmother brought them to the school to meet the coaches. Later, Ford watched the brothers practicing on the baseball fields on fall evenings as his daughter played soccer nearby.
"They're dedicated to the game," he said.
The pair attended weight lifting and conditioning in the winter, and Ford noticed talent in both during informal tryouts.
"Watching Kevin hit we could tell he had some skills. Watching him play basketball, he had some speed," Ford said.
Alex, who is 14, plays for coaches Daniel Corbett and Harold McCue.
"He's a good little player. He's so little. He's a peanut," Ford said. "He's slightly behind strength-wise; skill-wise he's good."
Kevin attended the baseball academy in Puerto Rico where boys were taught typical high school classes the first half of the day and spent the afternoons playing baseball.
"Here is like it's good because you have a lot of stuff to do," Kevin said. "Puerto Rico is always warm. Here it's winter. You have to stop playing."
He was captain of his team then and said coaches begged him to stay when he told them his aunt invited him to live in Ohio.
"He said, 'I have a new team for you. Better. They talk about you. They want you to play center field,'" Kevin said.
Ford said it's a different kind of dedication to the sport that makes the Sierras stand out from their teammates.
"Up here, we have so many different things," he said. "Maybe it's love of baseball. It's not more, but different."
Ford said the rest of the team has welcomed both players.
"People here are different," Kevin said referring to the strict ways of the academy. "The coach is nice. He's so funny."
They've even gone so far as to learn some Spanish themselves.
"Kevin or Alex would start counting during calisthenics. We count out the sit-ups and pushups. I'd ask how to say five in Spanish and they'd say 'cinco,'" Ford said. "I started giving commands in Spanish."
Both boys hope to play at the professional level one day. Their younger brothers play the game back home, but no family member has gone pro.
"They're good kids. I really like working with them. And they listen for the most part," Ford said, laughing as he recalled a practice during which Kevin tried to steal base repeatedly only to be tagged out.
"He's an aggressive player. I've had to rope him in," Ford said. "I told him you aren't always going to have the green light."
Rain and snow have cancelled the first few games of the season, but the Sierras are excited to get on the field.
"It didn't take them long to become comfortable, it seems," Ford said.