Derby league wins first bout
Little Steel Derby Girls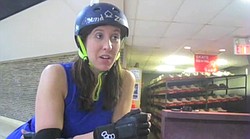 Video
The Little Steel Derby Girls are a roller derby team based in the Mahoning Valley.
Little Steel Derby Girls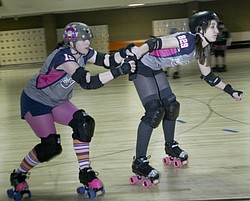 Gallery
The Little Steel Derby Girls area roller derby team based in the Mahoning Valley
BOARDMAN
It's Wednesday night at Youngstown Skate, and the sidelights dim as the last teen turns in his rented roller skates from open skate.
Except the rink remains under a full glare of light.
Then, two or three at a time, members of the Little Steel Derby Girls — the area's only roller-derby team — lace up their skates, fasten their helmets and glide onto the polished wooden floor.
"Low and slow, hands in the air. Alright," said Coach Justin Smythe, 33, of Girard, pausing before the command, "Sprint!"
With that, the team's third practice of the week begins.
The training has paid off. In its first year as a league, Little Steel won its first bout against the Steel City Derby Demons-Blitzburgh Bombers 155-113.
Now, members are focused on their first home bout Saturday when they'll face the Blue Water Derby Girls.
"Derby is a sport, and it's not just really a hobby. We actively participate in this three times a week. We put so much effort into it," said Tifany Griffith, 30, of New Middletown, who goes by the derby name "Ground Zero."
In roller derby, five skaters from two teams are on the floor during two 30-minute or three 20-minute periods in a bout. The object is for the "jammer" — one of the five skaters in the back of the pack — to get past the other team's skaters.
Griffith, the league's president, founded the league in December 2008 and since then it has grown to include 24 women.
"We have gone from very disorganized to very much organized," she said, noting that Little Steel now has a board of directors and is a registered non-profit organization. A portion of ticket sales from home bouts will benefit local charities.
Griffith and her fellow skaters have set their sights on joining the Women's Flat Track Derby Association (WFTDA), the sport's nationwide governing body.
To join WFTDA, the league must undergo a two-year apprenticeship, but first another WFTDA-sanctioned team must recommend Little Steel to the apprenticeship program. Little Steel was recommended early this year and is in now in the apprenticeship application process, Smythe said.
"[WFTDA] looks at the team, skater skills, facilities, and once apprenticed, you're going to get slaughtered" because the team will face established WFTDA competition, he said.
Even as Little Steel remains focused on its long-term goals, there's still plenty of laughing and joking among skaters.
"We're more than a team. We have such a friendship. We come from different backgrounds, and we have a sisterhood," said Amber "Berzerka Salt" Murphy of Austintown.
Murphy, 26, didn't know anyone on the team when she joined about a year ago, after holding onto a news clipping about the Little Steel Derby Girls for a year before she "got up the nerve to come."
Murphy and her teammate Mandy "Hummuscide" Tucker said people are surprised to learn they do derby.
"I do get it a lot just because it's totally opposite of my personality," said Tucker, 30, of Youngstown.
"I'm normally very friendly and cheery, and just like a nice girl. [Derby] is like this whole other side to me that people wouldn't expect," she continued.
Many people have preconceived notions about what derby girls look like or how they act, Griffith said.
"The biggest misconception is that the derby girls are just rough, tattooed people. That's really what people think of. ...Just these rough, showy girls in short-shorts," she said. "We wear shorts because that's what's comfortable, and you can see they're all pretty regular, sporty-type shorts that we buy at Dick's."
Elbowing, tripping or fighting will land skaters in a penalty box, as outlined in WFTDA rules, Smythe said.
WFTDA does have a national championship, and Smythe said the Little Steel Derby Girls will be competitive once they complete their apprenticeship.
But will they win?
"In five years, for sure. In three years, probably," he said.
More like this from vindy.com